Gay abandon: Orthodox activists want Moscow free of 'temptation'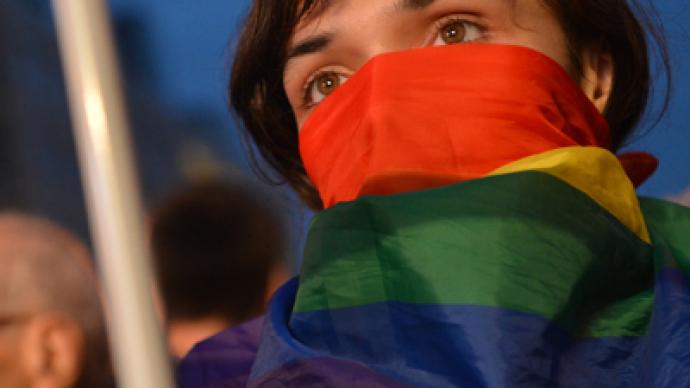 Orthodox Christian activists demand Moscow lawmakers prohibit the propaganda of homosexuality and shut down gay clubs in the Russian capital. That is in addition to a recent hundred-year ban on gay pride marches in the city.
The Narodny Sobor (People's Council) movement has started collecting signatures under an appeal to the Moscow parliament asking legislators to work out a bill that outlaws the promotion of homosexuality. Similar bans have been introduced in St. Petersburg and several other Russian cities."We conducted a study earlier and found that such a law would not contradict international law. Homosexuality as well as its propaganda is a grave sin," Oleg Kassin, co-chairman of the group told Izvestia daily.First of all, "it's necessary to close gay clubs" in Moscow since they "directly entice immature souls" into the LGBT community, he stated. According to the paper, several city legislators vowed to support the move. "We are ready to discuss the initiative with Narodny Sobor and to draft the legislation," Mikhail Antontsev, a United Russia MP, told the daily. The bill could help to protect minors from "unnecessary information," he believes. The deputy also insists that it is time to consider the adoption of a nationwide ban on the propaganda of "unhealthy relations." Another City Duma member, Vera Stepanenko is confident that the gay propaganda ban would help to solve the demographic problem in Moscow. The Russian Orthodox Church also favors the idea."We have every right to maintain the purity of the society and to protect our children from all sorts of sinful manifestations. Both the Church and the majority of the community agree that homosexuality is far from being a normal thing," says senior Church official Archpriest Vsevolod Chaplin. In February this year, St. Petersburg's city legislature approved a ban on spreading homosexual and pedophilia propaganda among minors. The law – which was initiated and promoted by United Russia Deputy Vitaly Milonov – provides for fines of up to about US$16,000 for individuals and $160,000 for organizations committing such offences. The move triggered a wave of criticism from the LGBT community as well as from human rights organizations in Russia and abroad. However, Russia's Supreme Court confirmed last week the legitimacy of the St. Petersburg gay propaganda bill and rejected a complaint filed by rights activists. Earlier, the St. Petersburg City Court also refused to review gay activists' complaints over the law. The opponents of the ban stated that the text of the document uses the terms "propaganda", "bisexuality", "transgender", "traditional and non-traditional marriage," all of which have no legal definitions, reported Interfax. Russian gay rights activists are set to continue fighting and filed complaints against the St. Petersburg ban as well as similar laws in several other cities to the European Court of Human Rights in Strasbourg.
You can share this story on social media: