'Your turn to be f**ked!' FEMEN attacks ex-IMF chief at his trial for 'aggravated pimping'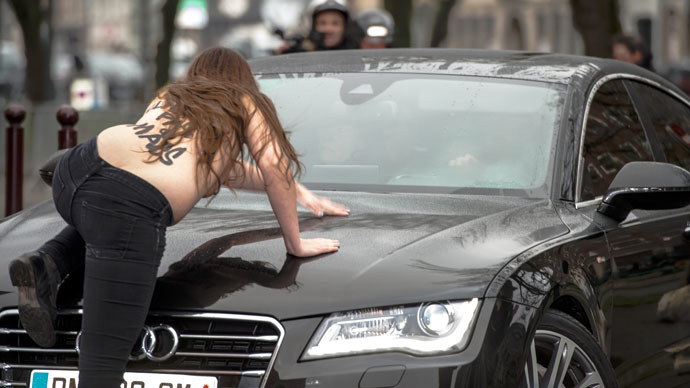 FEMEN, the topless activist group, is at it again. The target this time was former IMF chief Dominique Strauss-Kahn. The naked ladies aggressively accosted him outside a courthouse, where he is being tried for his lavish sex tastes.
As per usual, slogans were seen on the topless ladies, who wore only jeans on a glum afternoon in the French city of Lille. As Strauss-Kahn's car came into vision, the girls hurled themselves at the Audi, yelling insults and attempting to climb the vehicle.
Police swooped in quickly, pulling them away, as TV crews stood by filming. There were dozens of cameras present at the scene. Calling him "guilty" and a "pimp," the girls also shouted: "It's your turn to be f**cked!" at the former French finance minister and IMF head.
The car eventually made it past the militant feminists and to the court house.
The 65-year-old former IMF chief is in his second week of a trial on charges of hiring prostitutes for sex parties in Paris, Brussels and Washington. He has three days to make his case, and will be facing two of the women hired previously in court, where the media expects him to plead not guilty on the grounds that it was just lots and lots of sex with consenting adults, without knowing that they were prostitutes. The case for "aggravated pimping" was launched in 2013.
#Femen topless protesters jump on Strauss-Kahn's car at pimping trial http://t.co/JeoJhQgsIKpic.twitter.com/VpUDH3Ek2u

— Ian Fraser (@Ian_Fraser) February 10, 2015
The former IMF head was also arrested in the summer of 2011 after allegedly sexually assaulting a maid at a New York Hotel. The court dismissed the case after prosecutors failed to proceed, saying the maid's account of the incident had been discredited.
Nafissatou Diallo, the maid, had allegedly been forced to perform oral sex on the former IMF chief, who also allegedly tried to rape her. However, holes were found in her testimony by the very people who tried to prosecute DSK.
The story and its hero have gained considerable notoriety. A controversial film about the case, "Welcome to New York," directed by Abel Ferrara, starred French film icon Gerard Depardieu in the lead role.
You can share this story on social media: