'Ma petite': 80% of French women face sexism in workplace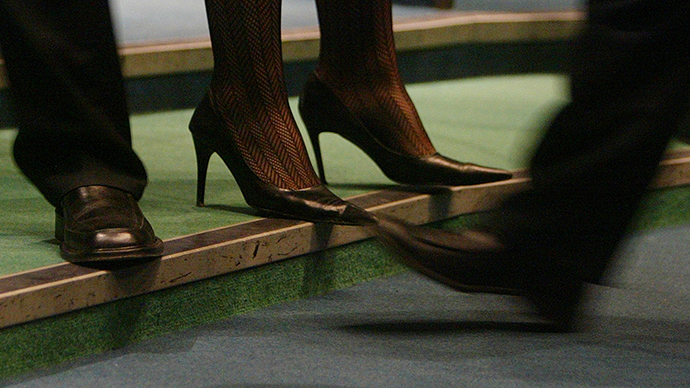 A report from France's professional equality council details alarming sexism in the workplace, with 80 percent of women claiming to be victims. The French government has called these practices "unacceptable."
A survey was carried out by the Higher Council of Professional Equality (CSEP), which polled 15,000 French women in 2013. CSEP has now come out with a report that details the impact of sexism on confidence and performance in women, using the data gathered earlier.
The majority of women in the French workplace say they experience chauvinistic attitudes from men on a regular basis. These include patronizing greetings, such as those followed by some diminutive term, and a host of other things to do with sexist decision-making by superiors and, of course, sexist jokes.
A lot of the things highlighted seem to be common to many other countries – like asking a colleague if a stressed-out woman is on her period. Others include things like: "It's a Tupperware meeting" (owing to see-through clothing), comments on "polishing fingernails" or a particularly disliked or aggressive female colleague being referred to as "worse than a man" – something 82 percent of French women say they've experienced.
READ MORE: Watch those dirty looks! France toughens sexual harassment laws
The French seem to have a massive vocabulary of various terms of endearment for women, which also made the list.
According to the authors, sexism "functions as a formidable instrument of excluding women from the professional sphere," which they say affects their work.
According to the report, 93 percent of female workers support that notion.
The authors do, however, concede that sexism is difficult to define, and so fighting it is problematic. The boundaries between acceptable and unacceptable acts, humorous and intentionally hurtful ones, are blurred.
Three forms of sexism are highlighted: "hostile", "subtle or hidden" and "ambivalent or benevolent" sexism, which is seen as condescending and paternalistic.
READ MORE: Mom's job: Clothing label stirs sexism accusations in Italy
French Minister of Social Affairs Marisol Touraine, who received the report from CSEP on Friday, has spoken out on the conclusions, adding that common-or-garden sexism can be something as ordinary as addressing a woman by her first name automatically – that this is just as bad as 'ma petite,' or 'my little girl.'
The report goes on to discuss sexism further and where it is most prevalent, as well as offering a series of recommendations on how to combat it. This includes measures to be taken against anyone who flouts the regulations.