​Putin wants neither Russian Empire nor army of clones: Q&A highlights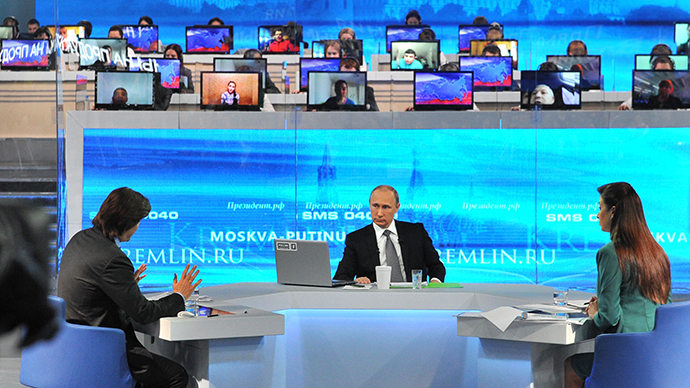 Russia sees no enemies among other countries and advises no one to treat it as such. It wants to be America's equal partner and refuses to be Uncle Sam's vassal. And Putin took Schröder to a Russian banya and doesn't want to be cloned.
Putin's 2015 Q&A marathon LIVE UPDATES
These are some of the highlights of President Putin's 13th annual Q&A marathon televised from Moscow on Thursday. The Russian leader spoke for about four hours, falling some 50 minutes short of his previous record. RT picked some memorable Putin quotes.
On anti-Russian sanctions
"Pressuring Russia with such measures is useless and senseless. I think our partners will soon realize this and will at least try to seek compromise instead of trying to fit us into the stereotypes they consider right."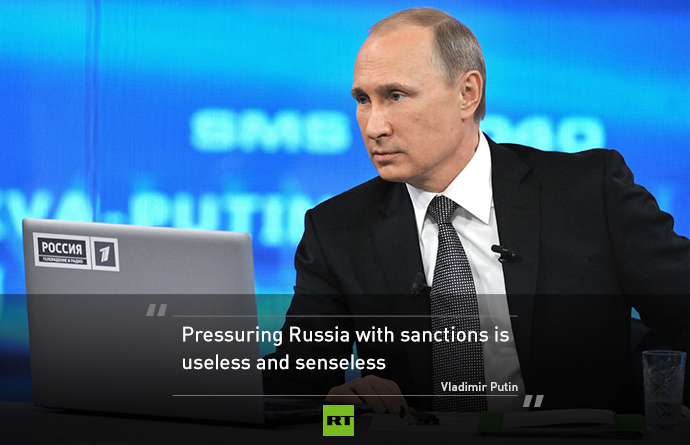 On passing the worst of the crisis
"Oil prices did grow a little, but [recovery of the Russian economy] is not directly linked to it, and experts see it. The ruble's appreciation is not linked to this rise, there are other factors. Experts see that we have passed the worst of the problems with paying our foreign debt, with our banking sector, with real sector businesses. We corrected the ruble's exchange rate and nothing burst, everything is working."
On US vassals
"Big superpowers which pretend to be exceptional and consider themselves the only center of power in the world do not need allies, they need vassals. I'm talking about the United States. Russia cannot exist in such a system of relations."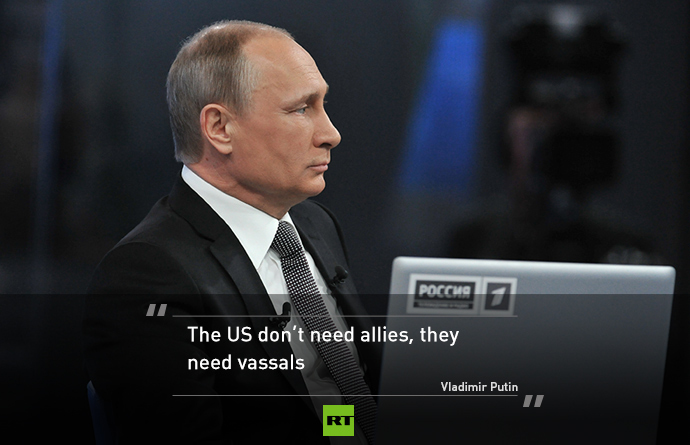 On US repeating the USSR's mistakes
"After World War II we tried to impose on many Eastern European nations our model of development and we did it through force. We must acknowledge that. There's nothing good in it, it still affects us today… The Americans are doing something like that now, trying to impose their model on virtually the entire world. They will fail too."
On Russia's imperial ambition
"We do not intend to rebuild an empire, despite what they are accusing us of. We have no imperial ambition. But providing a decent living to people, including Russians living abroad in countries close to us, that we can do by developing cooperation with them… We don't really care if a Russian is living in this or that territory behind the border, as long as he can visit his relatives freely, his living standards improve, he feels himself a person of full value, his rights are not violated, and no one forbids him to speak his language."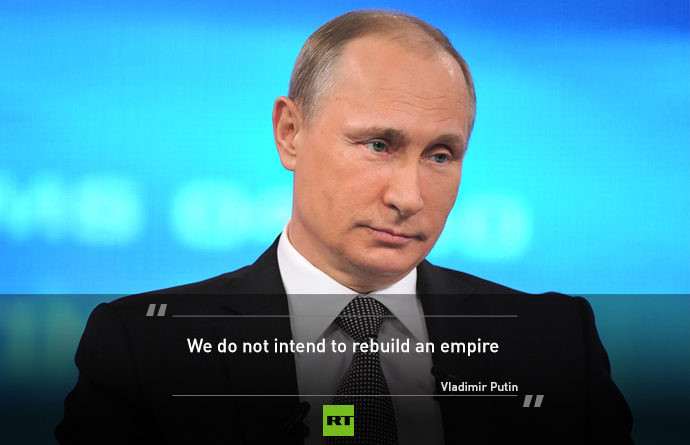 On rumors that Ukrainian president offered Putin to take Donbass
Last month some Russian media reported that Putin said at a closed business meeting that Ukrainian President Petro Poroshenko had offered him the rebel-held areas in eastern Ukraine during the Minsk talks in February. When asked for confirmation, Putin said:
"Nothing of the kind. We discussed the issues of reviving the economy, the social sphere of Donbass. There are many problems there."
On war with Ukraine
A resident of a border town, where stray shells from the Ukrainian side landed several times during the worst of the hostilities in eastern Ukraine, asked Putin whether a war would start. He said:
"I think it is impossible. Don't worry."
On political assassinations in Ukraine
Just as the Q&A session was progressing, news broke in Ukraine that prominent journalist Oles Buzina, who was in opposition to the current government, was gunned down in Kiev. Putin said it was far from being the first political assassination in Ukraine and compared the situation to how Russia is handling the killing of former opposition leader Boris Nemtsov.
READ MORE: 2 Ukraine journalists killed in Kiev, Poroshenko suspects 'provocation'
"In Ukraine, which aspires to be a democratic country and seeks membership in a democratic Europe [no thorough investigations of these crimes] happen. Where are the killers of all those people? There appear to be none. No killers, no people who hired them. And in Europe and North America they prefer not to notice that."
On friends benefiting from his kindness
One caller asked whether Putin's friends benefited from his kindness. Putin replied:
"Why only friends? Everyone does."
On cloning Putin
There was also a question whether Putin would like to be cloned or hire an army of doubles to make Russian officials work better. He said no.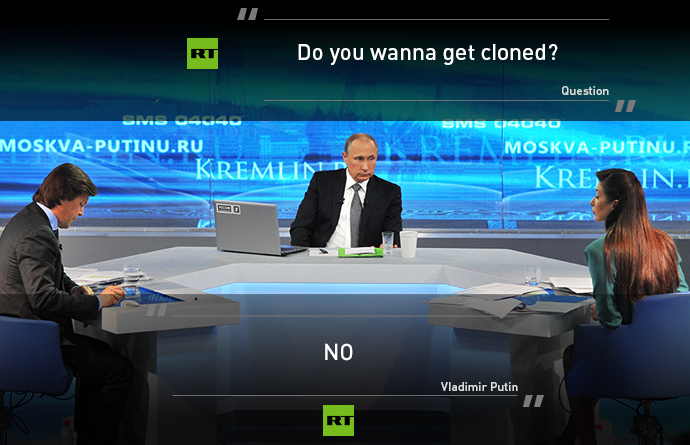 On taking foreign leaders to banya
Answering whether he had taken any foreign leaders to the traditional Russian sauna, which is called a banya, the president had a story to tell.
"Former German Chancellor Schröder and I were in my residence when he visited me two years ago. We went to the banya, but a fire started. I come out and tell him: Gerhard, look, we should go quickly. We are on fire. He said, fine, but I'll finish my beer first. I say: You're crazy, we're on fire! But he still finished his beer. A man of character!"
The banya burned out completely, Putin added.
Ordinary Russian farmer John
Among several Russian farmers who called in to voice their grievances was a man introduced as "ordinary Russian farmer John" by a TV anchor. John Kopiski is all that. He is Briton, but moved to Russia some two decades ago to marry a local woman and father five children all while running a milk farm.
READ MORE: British-born farmer grills Putin at Q&A (VIDEO)
Kopiski questioned the accuracy of the statistics that the Russian government uses to formulate its policies. He doubted it because, as he said, in the current business environment farms like his cannot be profitable because the price distributers pay for their milk is too low. Putin assured the farmer he was well aware of the problems Russian farmers face, and said the preferred solution at the moment was subsidizing agriculture bank loans.
Watch the full video of Vladimir Putin's 2015 Q&A: