​'Bankruptcy closer every day, and you believe statistics?' British-born farmer grills Putin at Q&A (VIDEO)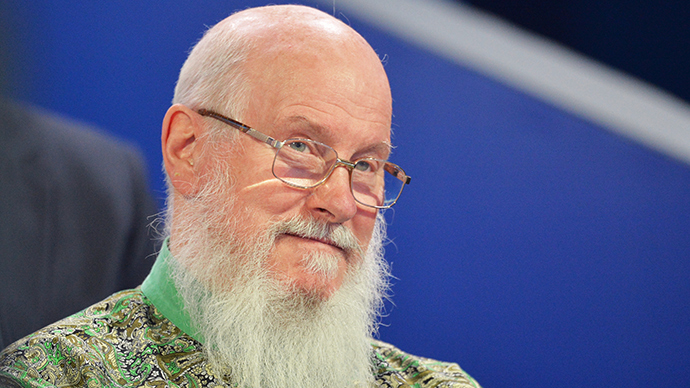 An expat Englishman, who runs a farm not far from Moscow, has grilled the Russian president and asked where Putin gets his statistics. The farmer said his farm and other dairy farmers were struggling to survive.
President Vladimir Putin held his 13th marathon Q&A on Thursday. More than 3 million people sent in questions, touching mainly on the economy and the situation in eastern Ukraine. Apart from questions that were sent in, Putin also answered live telephone calls, video feeds – and questions from the audience.
READ MORE: Putin wants neither Russian Empire nor army of clones: Q&A highlights

One such question came from an English expat John Kopiski, who owns a dairy farm in the Vladimir region not far from Moscow.
John's tenure in Russia now stands at 23 years and counting. When he arrived in 1992 he probably had no idea of the turnaround life would present him. A coal and steel industry worker was on a business trip in Moscow when he met the love of his life, Nina. To win her heart, John moved to Russia and converted to Orthodox Christianity.
Despite the huge efforts put into the dairy farm, John Kopiski is yet to turn a major profit on his venture and this is largely due to unfavorable market conditions in the agriculture industry.
"I have 1,700 milk cows that each gives 10,000 liters of milk per year… I'm forced to sell them now because the cost price is higher than retail. I cannot expand my business because I'm not making profit after doing this for 15 years… Banks ask for 120 percent, sometimes 200 percent collateral on a loan," Kopiski told Putin in Russian.
The farmer said he and his son would like to go on with the farm, but were fearful the business may go down the drain. He asked whether Putin thought the statistics the government used to develop its policies were accurate enough.
"I feel bankruptcy getting closer every day… You have the statistics and it might seem ok but I'm sorry to say – it is not so. Please forgive me if my question is blunt. I have five children and I love Russia. It's their motherland and I want to ensure their future here, but it must be based on truth and facts. That's why I'm asking: do you believe what you are shown? Or is the president being lied to because his subordinates are afraid to say the truth," he said.
Putin, thrilled to meet a British national farming in Russia, said he trusted statistics, though figures may be questioned in any country. However, the statistics were "more right than wrong," he said.
READ MORE: Pathfinders: The key to expat farmer success in Russia
"Purchasing prices for milk today are lower than the prime cost, and this creates issues. This comes from statistics, by the way. I do not have grounds to mistrust it," Putin said. "I don't know your milk yields, but in Russia in general they are a bit low compared to other countries. The reality is clear."
"You may think the government is not aware of what is going on - we are. Maybe, we have not taken enough measures, but we are working on that… The government decided to subsidize the farmers' floating capital," Putin assured Kopinski. "You said you've been doing this for 15 years. You should continue with what you are doing because if it didn't work you wouldn't have been able to keep it up for 15 years."
He added that Belarus exports dehydrated milk to Russia and that too has the effect of lowering prices.