Vatican snubs ransom demand, starts hunt for stolen Michelangelo letter
Published time: 9 Mar, 2015 04:45
Edited time: 9 Mar, 2015 05:00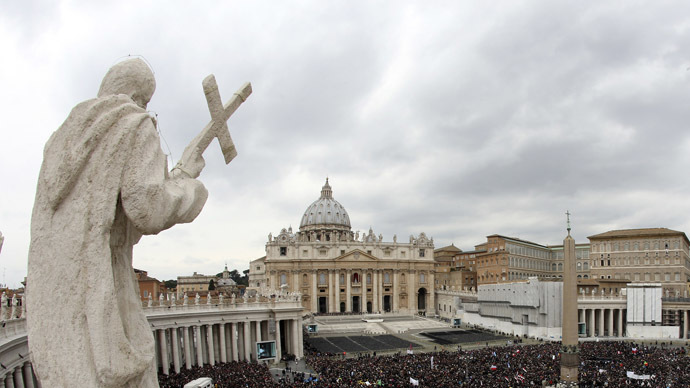 The Vatican has launched a criminal investigation into the theft of pieces of documentation signed by world famous artist Michelangelo, after confirming that it had received a note with ransom demands for the valuable historic items.
The theft has been concealed by the Holy See for almost two decades, and was only made public following a report by the Italian newspaper Il Messaggero. The publication reported that a former Vatican employee, had demanded 100,000 euros from the Vatican for a stolen document – signed by the same famous Michelangelo Buonarroti who painted the Sistine Chapel under the reign of Pope Julius II in the 16th century.
Following the revelation, Vatican spokesman Father Federico Lombardi acknowledged the theft of two documents saying that an unknown man contacted a cardinal in charge of St. Peter's Basilica and offered to return the documents for "a certain price."
The Vatican "naturally refused because these are stolen documents," Lombardi said.
Vatican receives ransom demand for Michelangelo letters that were stolen 20 years ago http://t.co/mxTMFpy6ISpic.twitter.com/OGup8ygzBf

— BuzzFeed News (@BuzzFeedNews) March 8, 2015
The cardinal confirmed that Vatican was aware of the theft for almost 20 years, after a nun who worked in the Vatican archives informed officials of the missing documents back in 1997. Lombardi failed to say why the Vatican had not made the theft public before.
The Vatican's vast archives and museums contain numerous documents about the history of the church and those pertaining to the construction of the Vatican.
While Il Messaggero only wrote about one missing letter, the cardinal revealed that in fact two documents had gone missing. The second artifact was not described, although both were reportedly taken from the Vatican department tasked with preserving the basilica and managing its internal discipline.
A nationwide search is now on, in coordination with Italian authorities.