FEMEN group kidnaps 'priest' to protest Pope's visit to EU Parliament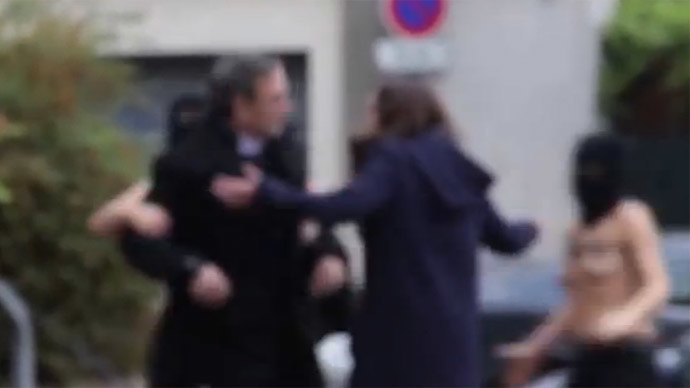 Topless FEMEN activists in France have apparently kidnapped a priest, protesting the upcoming papal EU Parliament visit. Balaclava-wearing, topless activists put a hood over the priest and bundled him into a waiting car. However it could be just a stunt.
A video shows the priest talking – perhaps trapped into a conversation – with a girl wearing a blue hooded coat, as a dark car pulls up and the FEMEN members get out of the vehicle.
They grab the priest's arms and bundle him into the car, at which point one of the members puts a dark sack over his head. The word 'FEMEN' is clearly visible across the girls' backs as they 'kidnap' the priest.
"God is not a magician / Pope is not a politician," reads a message in the FEMEN video.
The group says that it is defending secularism against the "attacks of the Vatican."
In a message accompanying the video on Facebook, the group accuses the Vatican and the Pope of the "criminal religious occupation of Europe," adding that the invitation issued to the Pope by the EU Parliament identifies the organization as an "enemy of secularism and freedom."
"We promise to treat the hostage well and provide him with everything that is necessary while he is in our hands/breasts. Unlike religion, feminism is peaceful!" the group writes.
While the language of the video is French, it is not immediately obvious where the kidnapping took place, and whether, indeed, the priest was a real priest, or whether the kidnapping was a publicity stunt.
On November 15, the group engaged in action outside the Vatican, simulating anal sex with crucifixes to protest the Pope's alleged meddling in politics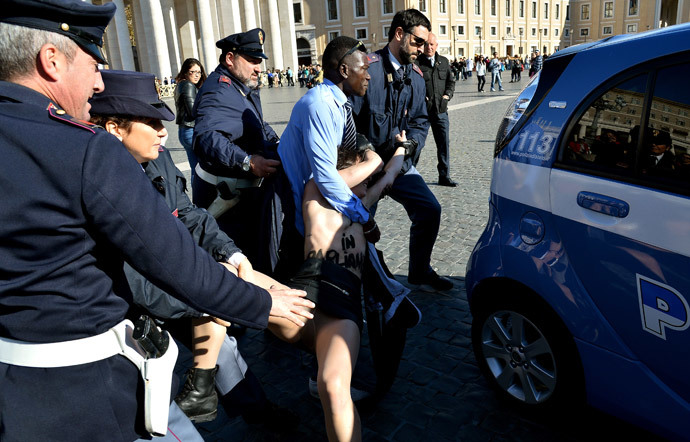 In February 2013, Eight Femen activists stripped down in Paris' iconic Notre Dame cathedral to mark Pope Benedict XVI's resignation in typically scandalous fashion.
One month prior, St Peter's Square was chosen as the ideal staging ground to stage a protest against the Catholic Church's position on homosexuality.
In October, a Femen activist faced a three to four months suspended sentence and a $2,000 fine for a December 2013 action which involved a mock abortion at The Madeleine Church in Paris. A verdict is expected next month.
Critics, however, decried what they said was an unfair double standard after a group which placed a pig's head outside a mosque in the French overseas territory of Mayotte were convicted of "incitement to hatred, violence or discrimination because of religious affiliation." The perpetrators in that case were given prison time.
You can share this story on social media: