Not again! Japanese McDonald's sells cheeseburger with 'metal chips'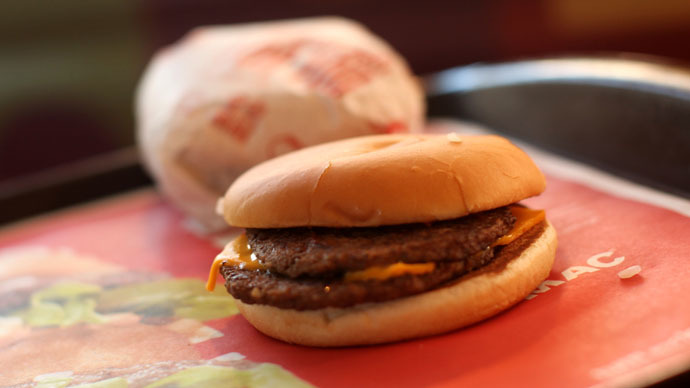 A Japanese man, who bought a cheeseburger at McDonald's, found 5-milimeter-long metal chips in his meal, local media reported. It comes hot on the heels of a string of incidents, including plastic in chicken nuggets and a tooth in potatoes.
A Fukushima resident bought a cheeseburger at McDonald's on January 1, Japan's NHK TV-channel reported. He took it home - only to find metal chips inside what the company's employees believed to be a part of a badly polished fire-pan surface.
READ MORE: Chomp sticks! 'Fried tooth' spotted in potatoes at Japanese McDonald's
The customer reportedly suffered no damage. He called the restaurant to complain about the presence of a foreign body in the food item.
Lately there has been a string of incidents connected with the fast food giant's Japanese branch.
"@ohteenquotes: McDonalds in JAPAN. I wanna go there now pic.twitter.com/bik1cMA1SD"

— ryeong (@cheskapico) December 30, 2014
Two restaurants have sold chicken nuggets containing plastic, and a human tooth was found in French fries, as well as pieces of napkins – in juice.
READ MORE: Vinyl found in McDonald's nugget in Japan, sales halted
Last Wednesday, McDonald's Japan apologized for the recent incidents.
"To make such cases zero is our goal," said Takehiko Aoki, a senior executive, as cited by AP. "We are doing our utmost to tackle them, one by one."
Aoki called the incidents "isolated" cases and declined to give an overall tally of the incidents.
McDonald's runs over 3,000 restaurants in Japan.
READ MORE McDonald's in Japan forced to serve small fries as US ports dispute hits supplies
You can share this story on social media: