'Children are victims of violence, trade and trafficking,' Pope says in Xmas message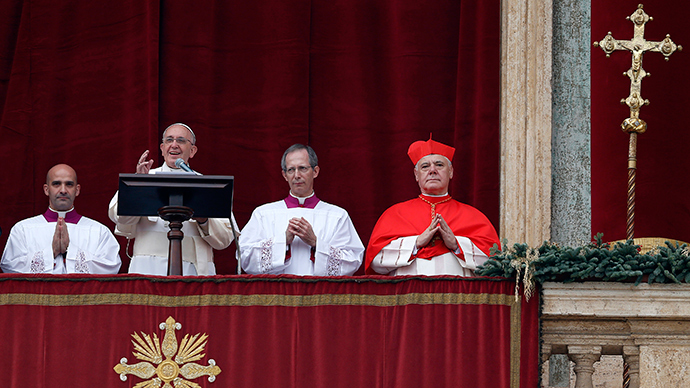 Children continue to be victims of violence, trade and abuse across the world, a fact bringing "so many tears" this Christmas, Pope Francis said in his Christmas message. He specifically decried the Pakistan massacre in which mostly children died.
READ MORE: 'God stronger than darkness & corruption': Pope delivers Christmas message
"May Jesus save the vast numbers of children who are victims of violence, made objects of trade and trafficking, or forced to become soldiers: children, so many abused children," Pope Francis said in the pontiff's traditional Christmas Day blessing called 'Urbi et Orbi' (to the city and the world) in St. Peter's Square.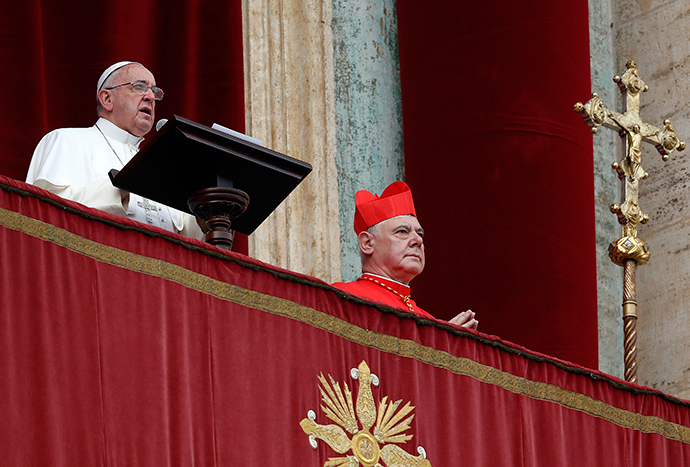 He said his thoughts were with those "infants massacred in bomb attacks, also those where the Son of God was born," but did not elaborate.
"Truly there are so many tears this Christmas, together with the tears of the infant Jesus," he said, speaking to a large crowd of believers.
The pope also mentioned the victims of the recent school massacre in Pakistan on December 16. At least 141 people, most of them students, some as young as 12, were killed and more than 100 others injured in a Taliban seizure of a military-run school in Peshawar.
READ MORE: 'Gunman was pumping bullets into bodies': Eyewitnesses describe Pakistan school siege
"May he [Jesus] give comfort to the families of the children killed in Pakistan last week," said the 78-year-old Argentine pontiff, who seemed visibly moved by his words.
Pope Francis urged the people of crisis-stricken Ukraine to "overcome tensions, conquer hatred and violence, and set out on a new journey of fraternity and reconciliation."
READ MORE: Starvation as warfare: Pro-Kiev forces 'block food, medicine, aid from reaching east'
Francis turned to the atrocities committed by militants from the Islamic State (formerly ISIS/ISIL), and urged consideration for "our brothers and sisters in Iraq and Syria, who for too long now have suffered the effects of ongoing conflict."
READ MORE: ISIS 'launches new chlorine gas attack' in Iraq's Anbar – report
He also called for "peace upon the whole Middle East",as well as for "dialogue between Israelis and Palestinians."
The pontiff mentioned the victims of Ebola in Liberia, Sierra Leone and Guinea, and thanked those who were helping the infected.
"As I thank all who are courageously dedicated to assisting the sick and their family members, I once more make an urgent appeal that the necessary assistance and treatment be provided."
You can share this story on social media: