Israeli serviceman shoots 5yo Palestinian in the face (GRAPHIC IMAGES)
Israeli police have fired a rubber bullet at a five-year-old Palestinian boy's face as he was getting out of a school bus on his way home, the child's family told Palestinian media. He sustained a skull fracture under his eye.
The incident happened when Muhammad Jamal Ubeid and his 14-year-old sister stepped out of the school bus and started walking home in al-Issawiya, an Arab village and neighborhood in East Jerusalem, on Wednesday.
"An Israeli soldier fired a black rubber-coated bullet at the child from a close distance, injuring him under the eye," Muhammad's uncle told the Palestinian Ma'an News Agency.
READ MORE:IDF strikes Gaza in retaliation to rocket fire
Muhammad was taken to the nearby Hadassah Medical Center on Mount Scopus, where the doctors said the boy had a fracture in the bone below his eye. The hospital confirmed that his wound was typical of ones inflicted by rubber bullets.
The hospital officials told Haaretz that the boy's condition was satisfactory and he was headed for surgery.
The child was later transported to the Hadassah Medical Center in the Ein Karem neighborhood, West Jerusalem.
RT Paula Slier visited Muhammad a few hours after surgery in Hadassah Medical Center in the Ein Karem and talked to his parents.
"He's an innocent boy, he didn't do anything! Why did this happen to him? I'm really worried about my son – they [Israelis] are the racists, not us!" Muhammad's mother told RT.
"He's 5-years-old, he's an innocent child, he didn't have a rifle, he didn't have a phone," added his father. "This is racism, they want to kill us because they hate us. We are Palestinians and they hate us."
BUT parents say Muhammad told them when he woke up that he was deliberately targeted by soldiers

— Paula Slier (@PaulaSlier_RT) December 25, 2014
READ MORE:Palestinian minister dies after run-in with IDF soldiers in West Bank protest
The village residents who witnessed the incident, told Haaretz that Muhammad was standing outside his home while Israeli police fired rubber bullets at children and teenagers. The latter were throwing stones at vehicles on nearby Ma'aleh Adumim Road.
However, according to the Muhammad's uncle, there were no clashes in the area between Palestinians and Israelis at the time of the shooting.
Tears and heartbreak few hours after surgery pic.twitter.com/jUu1TMKEUO

— Paula Slier (@PaulaSlier_RT) December 25, 2014
On Thursday, Jerusalem police released a statement indicating that police officials used riot-control means. However, they didn't confirm that the child was injured during the incident.
"A new and in depth examination was conducted following the reports of an injured child being hospitalized and it was found that a number of masked [protesters] threw rocks, Molotov cocktails and shot fireworks at a border police force operating [on Wednesday] on the slopes of Isawiya, to prevent harm to citizens traveling on the road towards Ma'ale Adumim," the police said in its statement.
They added that Israeli police forces "dispersed the rioters."
"It is not known if a child was injured during this incident. All the information was transferred to the [Justice Ministry] department for investigating the police," added the statement.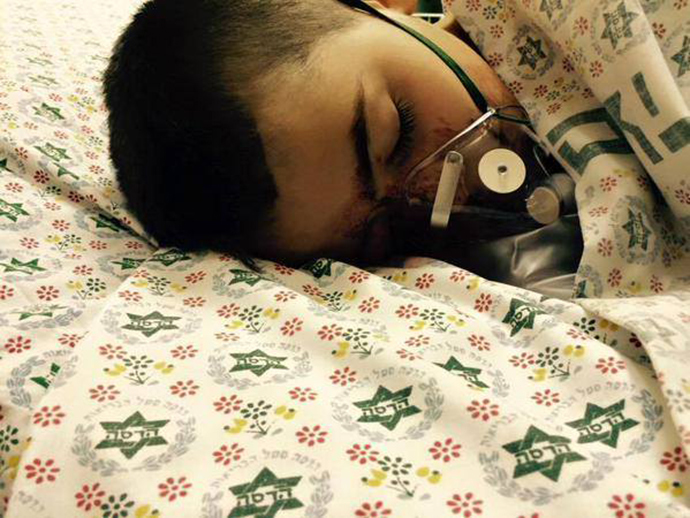 Little chance of justice?
Ziyad Hamuri from the Jerusalem Centre for Social and Human Rights told RT there were surveillance cameras in the area, which would show that there were no clashes near the school bus where the boy was shot at.

But according to Hamuri, there is little chance of justice for the injured boy, as Arabs "do not succeed" in Israeli courts, as opposed to Jewish settlers.

"We fear that there is a discrimination in the Israeli law. When it comes to a settler, they have their rights, but in our side, we [Palestinians] don't have our rights," the activist said.

Hamuri stressed that this is not the first time firearms have been used against Palestinian children, saying that their use against protesters is not justified. He wondered why the IDF prefers using bullets as opposed to riot control means such as tear gas, pointing out that the so-called rubber bullets are actually rubber-coated metal projectiles that can cause serious injury or death.

"It seems that there [are] orders for them. We have seen two months before that the interior minister declared that they [police] can use such weapons against the people," Hamuri said.
"I'm really worried about my son - they are the racists, not us!" pic.twitter.com/aPLPDhdKSs

— Paula Slier (@PaulaSlier_RT) December 25, 2014
According to al-Issawiya accounts, Muhammad is the second child in the area to be hit by foam-tipped bullets in the upper body, which is forbidden by police rule.
In November, an eleven-year-old was shot at a close range in the face by a sponge bullet in al-Issawiya. Saleh Samer Attiyeh Mahmoud lost his left eye and the vision of his right eye was also severely damaged.
Earlier Haaretz reported that Israeli police officers were using foam-tipped bullets, which are generally used for riot control. They are harder than other kinds of bullets and are particularly dangerous for children and teenagers.
Al-Issawiya, along with other East Jerusalem neighborhoods, has heavy Israeli police presence amid ongoing protests over the Israeli occupation.
READ MORE: Israel approves over 350 new settlements in occupied Jerusalem
Israel claimed East Jerusalem during the 1967 Six-Day War, with its annexation never being recognized internationally. Since then, Israel has built numerous settlements, which are now under military regulation, with different laws applied arbitrarily to certain areas.
You can share this story on social media: