IDF strikes Gaza in retaliation to rocket fire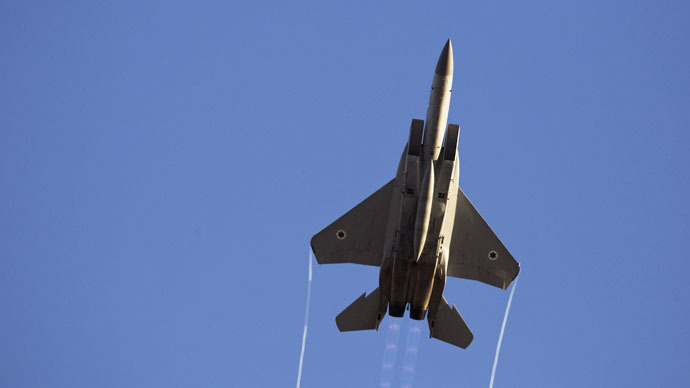 The Israeli Defense Forces have launched an attack on Gaza allegedly striking a weapons cache near Khan Yunis in retaliation to a rocket fired from Gaza earlier in the day.
There were at least two strikes by the Israeli Air Force, Jerusalem Post reports. Residents reported hearing two explosions in an "area that contains training sites for Palestinian militants," according to AP. There were no immediate reports of casualties.
The attack allegedly comes in retaliation to a rocket fired from Gaza earlier in the day into an open territory near the Eshkol Regional Council.
"The IDF will not permit any attempt to undermine the security and jeopardize the well being of the civilians of Israel. The Hamas terrorist organization is responsible and accountable for today's attack against Israel," said the IDF Spokesman, Lt. Col. Peter Lerner, cited by Haaretz.
The strike on what the military called a "Hamas terror infrastructure site" is believed to be the first airstrike by the IDF since Israel's 50-day war with Gaza this summer. Friday's rocket was the third projectile that hit Israeli territory since Operation Protective Edge in which more than 2,100 Palestinianswere killed,most of them civilians.
READ MORE: European Parliament votes to recognize Palestine statehood 'in principle'
"After Protective Edge, the state had a unique opportunity to bring about a long-term settlement," the head of Eshkol Regional Council Haim Yellin told Haaretz. "But instead we find ourselves with a ticking clock until the next round of escalation, and the next war."
OP-EDGE: 'Palestine is occupied state, not disputed territory'
Nobody has claimed responsibility so far for the rocket attack, but the former deputy defense minister Danny Danon rushed to announce that the incident once again proves that Hamas, ruling Gaza, is a terrorist organization. "If anyone doubted this then they received the answer now with the [rocket] fire," Danon said.
READ MORE: EU court removes Hamas from terror blacklist
Earlier this week, the EU General Court ordered that the Palestinian group Hamas be removed from the bloc's terror blacklist – over four years after Hamas appealed its terror designation before the EU. Later on Thursday, the European Parliament adopted a resolution recognizing Palestinian statehood in "principle" with only 88 MEPs voting against it while 498 supported the symbolic move.
You can share this story on social media: