'Gunman was pumping bullets into bodies': Eyewitnesses describe Pakistan school siege
At least 141 people, mostly children, have been slaughtered in an enormous Taliban massacre at a military school in Pakistan. Survivors described horrific scenes at and outside the school as the gunmen went from class to class after their friends.
"The gunmen shouted 'Allahu Akbar' [God is the greatest] before opening fire," one student recalled to AFP from his hospital bed at Lady Reading Hospital, where scores of students had been taken.

"Then one of them shouted: 'There are so many children beneath the benches, go and get them,'" Khan told the agency. He added that the insurgents were "looking for students and pumping bullets into their bodies."
READ MORE: Over 140 people, mostly students, killed by Taliban in Pakistan army school seizure
"I saw a pair of big black boots coming towards me, this guy was probably hunting for students hiding beneath the benches," he said. He recalled being shot twice – above both knees: "My body was shivering. I saw death so close."

The death toll is expected to rise. While the number of wounded remains ambiguous, the figure of 114 had been given by the Health Secretary of Khyber Pakhtunkhwa province, Mustaq Jadoon, to AFP, before the army announced that the official death toll had risen to 141 from an initial 130.

Indian Prime Minister Narendra Modi has described the attack as a "senseless act of unspeakable brutality" on Twitter.
Lists of dead bodies received at Lady Reading Hospital so far. #PeshawarAttackpic.twitter.com/8jfYqWaIWk

— Naveed Ahmad Khan (@NavidAhmadKhan) December 16, 2014
'We thought they were kids playing… then we saw guns'
A worker at the school said that the siege began at around 10:00 am local time, when he saw six people climbing the walls of the school. While AP stated that "about half a dozen gunmen" were involved in the attack, after nine hours of fighting, a military source told Reuters that "the operation is complete" and that all nine militants had died in the counter-operation.
"We thought it must be the children playing some game… But then we saw a lot of firearms with them," Mudassir Awan told Reuters.

"As the firing started our teacher asked us to bend down and we went to a corner of the class. After one hour when firing reduced, an army officer came and rescued us," A-level student Muhammad Naeem told RT's video agency Ruptly.

"As we came out we saw on the way in corridors our friends were lying dead on ground hit by bullets – some with three, some with four bullets, they were bleeding," he added.

Major General Asim Bajwa told Reuters that initially, no hostages had been taken. "They didn't take any hostages initially and started firing in the hall," he said, adding that the militants appeared to have brought along enough rations to last them a few days – suggesting that a long-term hostage taking operation had been intended.
University of Peshawar students donating blood. pic.twitter.com/Epzj9y133U

— Delawar Jan (@DelawarJan) December 16, 2014
Survivors recalled the evacuation process despite the confusion. One student from the seventh grade recalled being moved into the auditorium en mass for safety.

"Seven to eight people attacked us, then an army soldier came to us and he asked principal and teachers to take the children out of the compound from the back gate. There were thousands students in college, they were moved to auditorium," a student of class seven, Arshad Khan, told Ruptly video agency.

One injured student was with a group of eighth to tenth graders when the violence snowballed. Nobody knew what was happening initially, he told AP.

"Then I saw children falling down who were crying and screaming. I also fell down. I learned later that I have got a bullet," Jamal, who was shot in the leg, said from his hospital bed.

Hoards of ambulances and armed soldiers manned the area surrounding the school in the northwestern city of Peshawar, and helicopters hovered ahead, as India attempted to come to terms with the horrors of the nine hours.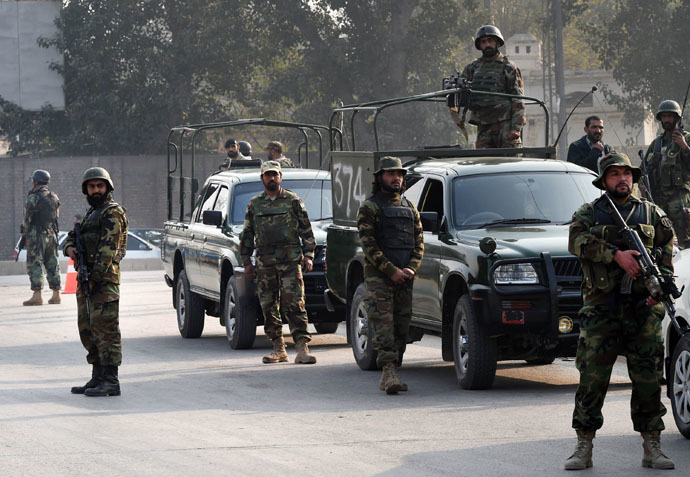 'God, why did you take my son?'
"My son was in uniform in the morning. He is in a casket now," one parent, Tahir Ali, cried as he went to the hospital to collect the body of his 14-year-old son.

"My son was my dream. My dream has been killed," he told AP.

Devastation gripped parents who lost their children, some of them preteens.

"O God, why did you snatch away my son?" a mother of a 12-year-old boy killed in the attack told AFP.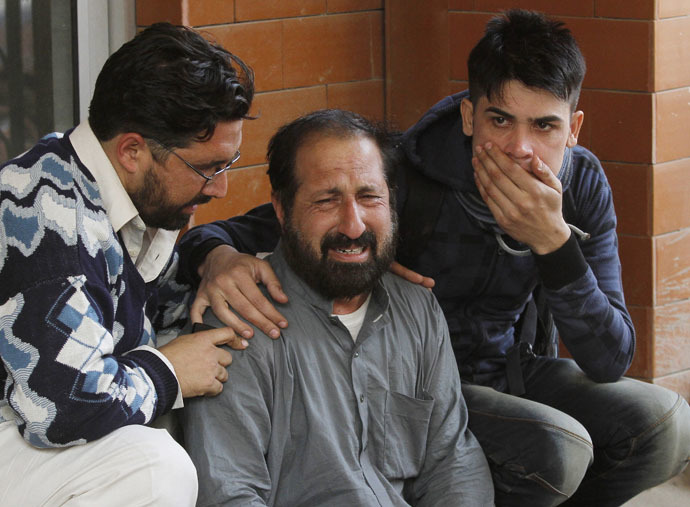 Several high profile figures have stepped forwards to condemn the brutality of the incident.

Prime Minister Nawaz Sharif said he was on his way to Peshawar: "I can't stay back in Islamabad. This is a national tragedy unleashed by savages. These were my kids."

The attack was reportedly in revenge for a major army operation against militants in tribal areas.

"We selected the army's school for the attack because the government is targeting our families and females," said Taliban spokesman Muhammad Umar Khorasani. "We want them to feel the pain."
Pakistani official says many of the kids at the attacked school are the children of soldiers fighting the Taliban.

— Richard Engel (@RichardEngel) December 16, 2014

Six gunmen have been killed following the attack, Pakistani military told the agency.

Nobel Prize Winner, Malala Yousafzai, added her voice to those condemning the siege.

"I am heartbroken by this senseless and cold-blooded act of terror in Peshawar that is unfolding before us," she said on Tuesday.
You can share this story on social media: