'Horrors of sexual violence': Yazidi women forced into slavery, commit suicide, Amnesty says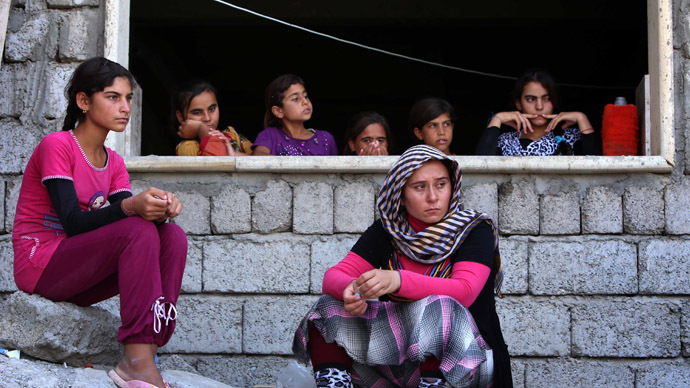 Hundreds, possibly thousands, of Yazidi women and girls from the age of 12 have been affected by violence from Islamic State militants, being sold as sex slaves or given as gifts, says Amnesty International. This drives some of the victims to suicide.
"Hundreds of Yazidi women and girls have had their lives shattered by the horrors of sexual violence and sexual slavery in IS [Islamic State] captivity,"said Donatella Rovera, Amnesty International's Senior Crisis Response Advisor.
In August 2014, IS fighters abducted "hundreds, possibly thousands, of Yazidi men, women and children" from the Sinjar region in northwestern Iraq.
"Younger women and girls, some as young as 12, were …sold, given as gifts or forced to marry IS fighters and supporters. Many have been subjected to torture and ill-treatment, including rape and other forms of sexual violence, and have likewise been pressured into converting to Islam."
Iraq: Yezidi women and girls face harrowing sexual violence http://t.co/lXnSQPynv1#humanrights#Iraq#ISIS#IS@DRovera

— AmnestyInternational (@AmnestyOnline) December 23, 2014
Between September and November 2014, the watchdog interviewed 42 Yazidi women and girls who had managed to escape from the Islamic State extremists.
"Many of those held as sexual slaves are children – girls aged 14, 15 or even younger. IS fighters are using rape as a weapon in attacks amounting to war crimes and crimes against humanity."
READ MORE:British women oversee ISIS abuse, sexual slavery of Yazidi girls
The trauma suffered by the women and girls in captivity could drive them to suicide, says Amnesty, drawing the example of Jilan,19, who took her own life while being held captive in Mosul, as she feared she would be raped.
"One day we were given clothes that looked like dance costumes and were told to bathe and wear those clothes. Jilan killed herself in the bathroom. She cut her wrists and hanged herself. She was very beautiful," Luna, one of the girls who were locked in a room with Jilan, told the organization.
"I think she knew she was going to be taken away by a man and that is why she killed herself," added Luna, who later escaped the militants.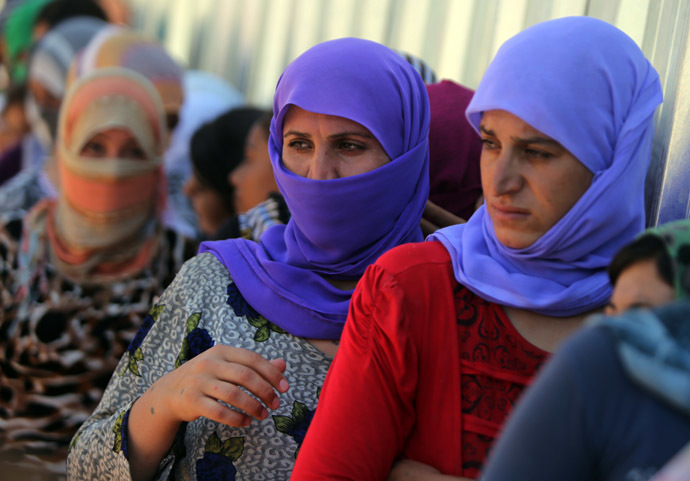 Another IS victim, Wafa, 27, and her sister tried to kill themselves to escape forced marriage.
"The man who was holding us said that either we marry him and his brother or he would sell us," she told Amnesty.
"At night we tried to strangle ourselves with our scarves. We tied the scarves around our necks and pulled away from each other as hard as we could, until I fainted….I could not speak for several days after that."
READ MORE:ISIS releases horrifying sex slave pamphlet, justifies child rape
Amnesty says that after their escape from IS militants, former sex slaves may kill themselves.
The grandfather of a 16-year-old girl who was raped by the militants says that she "is very sad and quiet all the time."
"She does not smile anymore and seems not to care about anything. I worry that she may try to kill herself, I don't let her out of my sight," he added.
"The physical and psychological toll of the horrifying sexual violence these women have endured is catastrophic. Many of them have been tortured and treated as chattel. Even those who have managed to escape remain deeply traumatized," said Rovera.
READ MORE:'Can one take 2 slave girls?' ISIS militants joke about selling Yazidi women (VIDEO)
The Islamic State has bragged about reviving slavery and claims it is empowered to enslave Yazidis, whom its members consider to be devil worshippers. Yazidis are a Kurdish minority, which practices a religion linked to Zoroastrianism, influenced by Sufi Islam.
You can share this story on social media: