British women oversee ISIS abuse, sexual slavery of Yazidi girls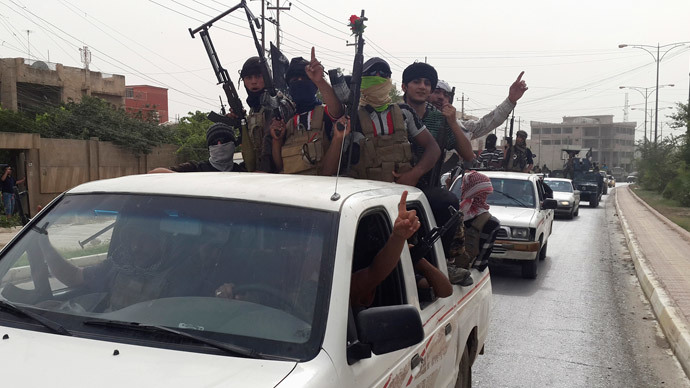 More British women are flocking to join the Islamic State militia group in Iraq and Syria, with many apparently involved in torturing and even ordering the execution of Yazidi girls captured as sex slaves.
According to a number of social media accounts, Yazidi girls taken by Islamic State (IS, formerly ISIS) fighters are being held by female members of the group, known as Al-Khansaa Brigade, with many subject to daily physical abuse and rape.
In some cases, the girls are sold for as little as £27, according to some media reports.
Al-Khansaa Brigade is known as the all-female wing of the IS. While some have reportedly fought on the frontline with male fighters, the main role of the group is to police behavior and order punishments for those suspected of defying the Islamist militia.
@WaereSchoen ISIS "Girl Power": die Al-Khansaa Brigade. http://t.co/Z21ZEuesE4http://t.co/J5J4i1Ppxzpic.twitter.com/otqfPSCZ5L

— Krolll (@HKrolll) September 8, 2014
It is believed that a large number of British women, including Glasgow-born Aqsa Mahmood, 20, and London-born Khadijah Dare, 22, have joined the brigade.
There are estimated to be around 60 British nationals currently serving in Al-Khansaa Brigade, according to the Terrorism Research and Analysis Consortium (TRAC), which also believes a significant number of women in the group are highly-educated Western women.
Shocking! Yazidi sex slaves sold at market in Islamic State's de facto capital city Raqqa by Al-Khansa Brigade pic.twitter.com/glCkVoxFow

— Sharon Forbes (@BlondeMzungu) December 4, 2014
"We have established the brigade to raise awareness of our religion among women, and to punish women who do not abide by the law," said an IS representative based in Raqqa earlier this year.
"There are only women in this brigade, and we have given them their own facilities to prevent the mixture of men and women."
More recently, two other Britons, both 16 years old, left their homes in Manchester to join the brigade, and according to their social media accounts, married IS fighters. While their parents traveled to Syria to try convince them to return home, the girls said they had been "chosen by Allah" to fight for the IS.
The black flag will stretch from the far east to the far west bi'ithniAllah

— Al Britaniyyyaa (@UmmKhhattab__) November 12, 2014
Got my dream interpreted, it meant; a big victory for the Mujahidin, alongside many Shuhadah and the capture of a VIP from the enemy.

— umm layth (@Muhajirah_) November 28, 2014
While it is unclear how many Yazidi girls have been captured by the IS, one member of the brigade, who goes by the Twitter handle 'Umm Farriss', described them in mocking terms, saying they did not return her greetings when she entered an IS-captured building in Raqqa.
Additionally, in the IS publication 'Dabiq', fighters attempted to justify their capture of Yazidi girls, and their use as sex slaves.
"The Yazidi women and children were then divided according to the Sharia amongst the fighters of the Islamic State who participated in the Sinjar operations," the article reads.
"The enslaved Yazidi families are now sold by the Islamic State soldiers."
The article also quotes an Islamic scholar, Shaykh Abu Mahamed al-Adnani, to justify their actions, saying, "We will conquer your Rome, break your crosses, and enslave your women, by the permission of Allah, the Exalted."
It is believed around 500 Britons have traveled to Syria and Iraq since the conflict began, although other estimates suggest significantly more Britons have left to fight with the IS and other Islamist militia groups.
You can share this story on social media: