​British ISIS women form 'sharia police' force – report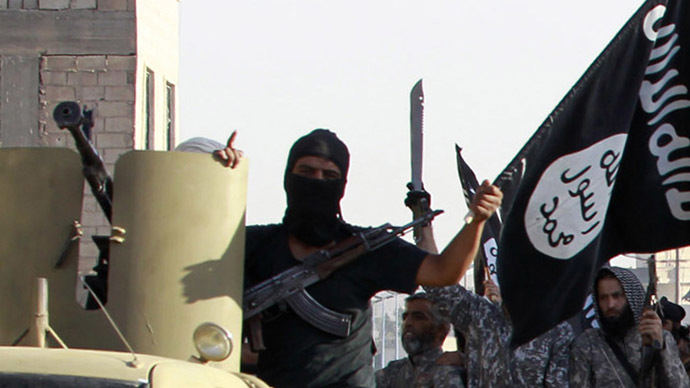 British females fighting with the 'Islamic State' militant group are operating a 'sharia police force' that punishes activities deemed 'un-Islamic', a leading think tank says.
Up to 60 women are believed to have joined the Al-Khansaa brigade, an all-women's branch of Islamic State (IS, formerly ISIS/ISIL), which is believed to be based in the Syrian city of Raqqa.
The claims were made following research conducted by the US based think tank Terrorism Research and Analysis Consortium (TRAC). TRAC says the group was set up to expose people suspected of spying on ISIS by disguising themselves in women's clothing.
According to reports from the Daily Telegraph, most of the women in the Al-Khansaa brigade are between 18-24, with some joining the main military ranks of the ISIS militia.
Among the women fighters may be the privately-educated Aqsa Mahmood, 20, from Glasgow, Scotland, who traveled to Syria in November 2013.
My sisters @UmmLayth_ Umm Haritha & Umm Ubaydiah ♡ (@Al_Khanssaa) May Allah unite us soon pic.twitter.com/WHloaNfoib

— ام وقاص (@_UmmWaqqas) August 22, 2014
Last week, Mahmood's parents broadcast an appeal for their daughter to return home on the US news network CNN.
"Her last message was that 'I will see you on the day of judgment... I will take you to heaven, I will hold your hand.' That's what she said. 'I will become a martyr,'" her father, Muzaffar Mahmood, said.
"Our daughter is brainwashed and deluded and helping those engaged in genocide," her parents added.
The brigade's women are reportedly paid around 100 pounds (US$161) a month, according to TRAC.
While little is known about the operations of the brigade, the International Centre for the Study of Radicalisation (ICSR), based at Kings College London, says that it is likely the brigade moves in similar circles to male ISIS fighters.
UK authorities also believe that the women know the identity of 'Jihadi John', the nickname given to the unknown killer of American journalists James Foley and Steven Sotloff.
Other women suspected to be part of the Al-Khansaa include Salma and Zahra Halane, 16-year-old twins from Manchester, and 22-year-old mother Khadijah Dare, who says via her social media accounts that she's participated in frontline combat.
According to the ICSR, there are at least 30 European women in Iraq and Syria, although other analysts believe this number is growing significantly. In France, a hotline for reporting signs of potential radicalization has seen 45 percent of its inquiries have involved women.
While it is unknown how many Britons have gone to fight with ISIS, the government estimates that between 500-1,000 British citizens are likely to be in Iraq or Syria.
Last week, former MI6 global counter-terrorism director Richard Barrett said that the UK should encourage British citizens to "come home," following reports that dozens of British jihadists were becoming disillusioned with ISIS.
However, Prime Minister David Cameron has outlined new powers to that would revoke the passports of potential Jihadi recruits, and strip Britons fighting with ISIS of their citizenship.
You can share this story on social media: