Rise of far-right: Thousands rally at anti-Islam protest in Germany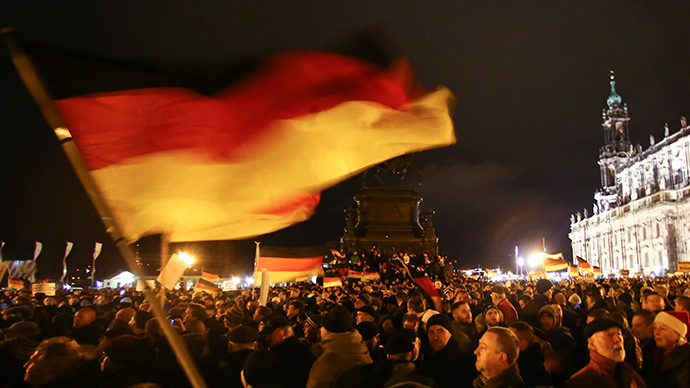 At least 17,500 people took part in a protest against Islamization in Germany's eastern city of Dresden, according to police. The Monday rally comes as the latest round of demonstrations organized by the rising far-right PEGIDA movement.
READ MORE: Groundswell: 15,000 join anti-Islamization rally in Dresden

Thousands gathered by Dresden's iconic opera house, the Semperoper, to demand stricter immigration rules. The organizers, Patriotic Europeans against the Islamization of the Occident (PEGIDA), also invited participants to do some carol singing.
6000.17000, 24000, 35000 ... now #Pegida The movement is a scale that Germany would not have suspected. pic.twitter.com/qWKVKNNYOX

— EnaLolena (@EnaLolena) December 22, 2014
Ruptly's video shows PEGIDA's founder and leader Lutz Bachmann speaking at the event, stating that "Germany is no immigrant's land" and demanding that those who wish to live in the country do so by adhering to a "culture based on the Christian-Jewish" values and "humanism."
The Monday demo marked PEGIDA's largest protest so far. The ranks of the group have been swelling with each passing week since its first rally in October, which gathered just a few hundred people.
PEGIDA's organizers have said that they are standing up against extremism and not against immigrants as such, but the rallies have spread concerns over a rising far-right movement in Germany.
The group's supporters refer to themselves as "patriots," who are worried about the "watering down" of Germany's Christian culture and values.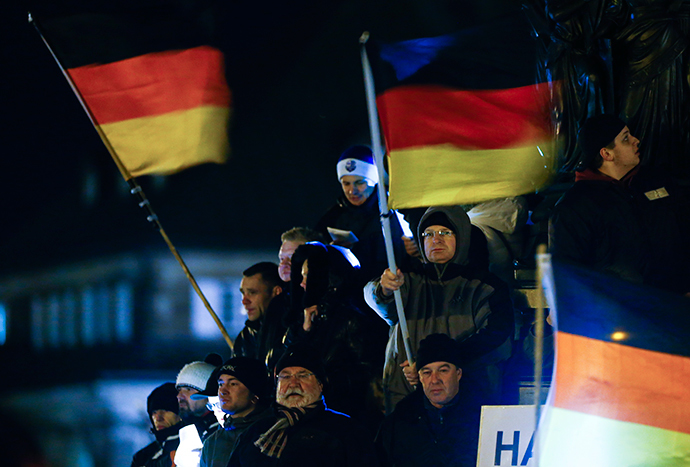 Semperoper has expressed its disapproval of the movement by turning off the lights during the rally and putting out flags outside that read: "Open your eyes," "Open doors" and "The dignity of the human being is inviolable" – which is the first line of German's constitution.
PEGIDA's protest was met with counter-demonstrations across the country.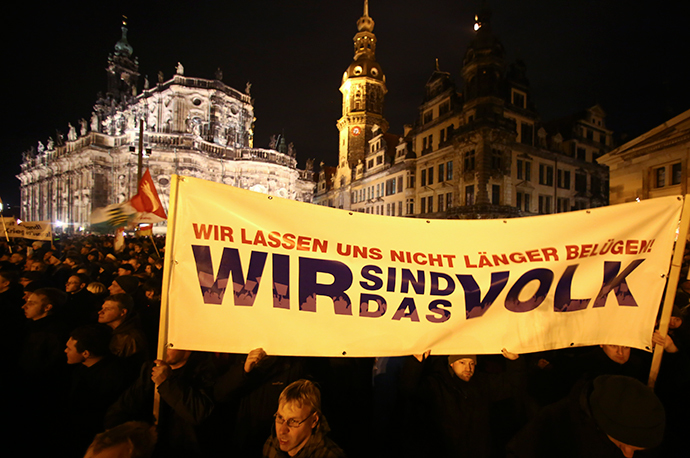 About 4,500 people marched through Dresden, carrying banners reading: "Nazi-free," AP reported. Activists accused PEGIDA of being racist and spreading xenophobia.
Similar anti-PEGIDA demonstrations took place in Munich, with at least 12,000 people coming out. In Bonn, several hundreds of counter-demonstrators faced off with rallying members of anti-immigration group BOGIDA (Bonn Against Islamism), prompting police intervention.
Ich mag meine Stadt RT @gabonn: Mehrere tausend Gegendemonstranten stellen sich 100 #Bogida -Anhängern entgegen.#bonnpic.twitter.com/1jVo7ufKmA

— Andrea (@_misskonfetti) December 22, 2014
Ruptly's video from Bonn showed demonstrators clashing with police, and several protesters being detained by the authorities.
Berlin, Rostock, Würzburg, and Düsseldorf also saw counter-protests in opposition to the far-right movement.
The anti-immigration movement has been gaining followers as Germany became the number one destination for asylum seekers in Europe. Moreover, the Organization for Economic Co-operation and Development (OECD) said in a report that Germany is the second most-favored destination after the US for refugees and asylum seekers.
Many German politicians, except for the Alternative for Germany (AfD) party, have spoken out against the movement. Meanwhile, locals have been stepping up their efforts in fighting off the rising nationalistic trend.
One of the latest social tools is a new mobile app that tracks ultra-nationalist rallies happening in Berlin.
READ MORE: 'Anti-Nazi' tracker app launched to fight far-right rallies in Berlin
The app detects the ongoing 'Nazi' rallies and informs the public on exactly where they will be taking place, so they can be thwarted.