'Anti-Nazi' tracker app launched to fight far-right rallies in Berlin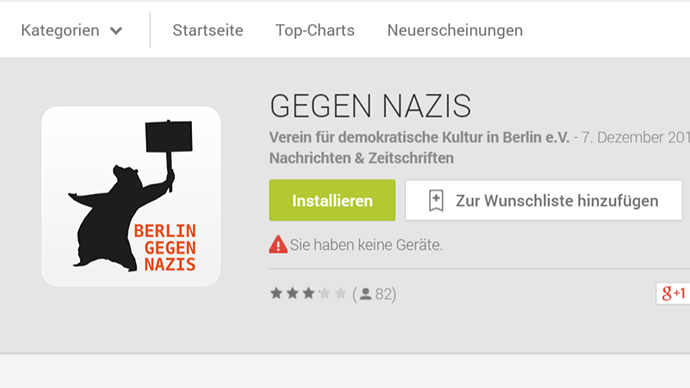 German activists have released a new mobile app that tracks ultra-nationalist rallies happening in the city. The 'Anti-Nazi' app has been devised to help fight against far-right extremists who are gaining ground in Berlin.
READ MORE: Nazi slogans & salutes: 29 German teens face probe over daily practice
Berlin has become a hotspot for rising nationalism at a time when Germany has been receiving an increasing number of refugees from the Middle East and Syria.
The German capital now regularly sees nationalist rallies on Mondays, with the last one reportedly gathering several hundred people.
RT's Egor Piskunov reported from Berlin that concerned activists believe members of the ultra-nationalist movement camouflage themselves as citizens concerned about the refugee issue.
One such activist decided to take action by creating a mobile application aimed at detecting the ongoing 'Nazi' rallies and informing the public on exactly where they will be taking place, so they can be thwarted.
"This app would be like a tool, which informs all Berliners and even non-Berliners about what is going on, when and where. Berlin has to host an increasing number of refugees and these people take it as an excuse to show in public their racist opinion," Jessica Zeller from Berlin Against Nazi NGO told RT.
#mahe0812 Aktualisierte Karte bei "Gegen Nazis". Route der Nazis und Flüchtlingsgegner_innen bekannt. pic.twitter.com/ps6ROoQzTF

— Berlin gegen Nazis (@BerlingegenNazi) December 8, 2014
"There is an orange line and a brown line. The orange line is protests against the Nazis and the brown line are the Nazis," Zeller said, explaining how the app works.
READ MORE: Nazi hipsters? 'Nipster' movement spreading across Germany
The app claims on its Twitter account that it has already managed to stop several marches from taking place.
Den Rassisten ist es heute nicht gelungen ihre Route zu laufen. Und es waren weniger als letzte Woche. Weiter so und Danke. #mahe0812

— Berlin gegen Nazis (@BerlingegenNazi) December 8, 2014
The Android version of the app came out first, and has already been downloaded by around 1,500 people. The Apple version is expected to be released in the near future.
The app has sparked a lot of debate online. Some Android users commented on Google Play, welcoming the app and calling it a great idea. Others pointed out that it could also be used by extremists who could use the tool to determine the time and place of the rallies.
Want to stop right-wing #Pegida marches in #Germany? Ask your city to support the anti-#Nazi app http://t.co/gPMSrfsZOm#nopegida#Noduegida

— Conor J Dillon (@ConorJDillon) December 8, 2014
Activists also embraced and advertised the app on Twitter, while its critics tweeted that the idea sounds "Orwellian" and leaves the definition of 'Nazi' up to the app's developers.
Germany develops anti-Nazi music app. - Very Orwellian. They'll be analysing brain patterns next. http://t.co/3mH940xnWk

— Anthony Roberts (@tonyfroberts) December 3, 2013