Thousands in Dresden rally against Islamization, call for Western values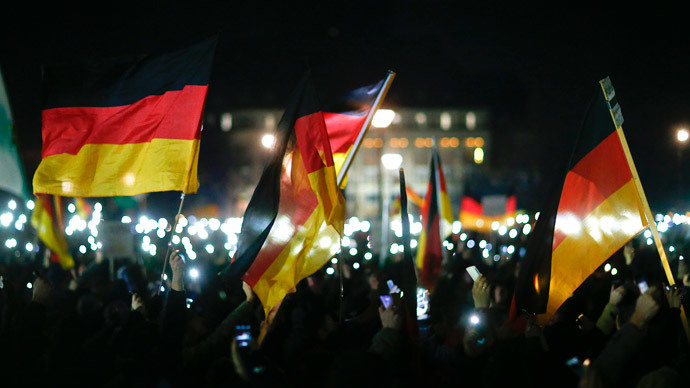 Thousands took to the streets of Dresden, Germany, to protest the Islamization of their country. Their opponents also rallied at the same time warning about spreading xenophobic ideas in Europe.
At least 10,000 people joined the march of Patriotic Europeans against the Islamization of Europe, or PEGIDA, a German right-wing organization. The protesters say they want to preserve Germany's Judeo-Christian Western culture, and curb the spread of Islamic State and Al-Qaeda activities in the EU.
Terwijl #Vlaanderen slaapt: 10.000 Duitsers op straat tegen #islamisering. http://t.co/RbVkkhFrMt via @ntvde#pegida

— Wim De Winter (@WimDeWinter2) December 9, 2014
"Political refugees are very welcome. But look at our asylum seekers' homes here. There are only men living there. Where are their families? They are criminals who left their families behind in the war," one PEGIDA activist told Euronews.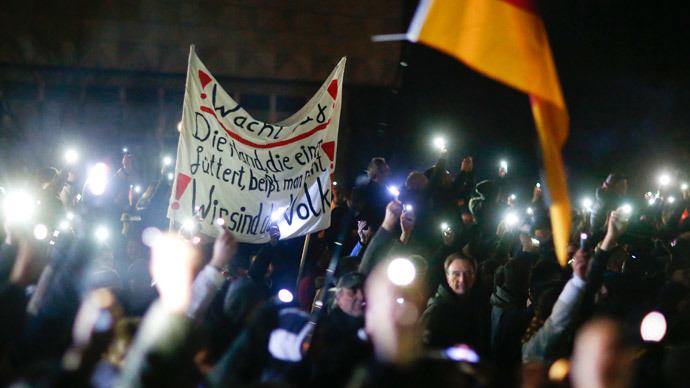 PEGIDA distances itself from neo-Nazi groups in Germany. On its Facebook page, it says German children "can grow up in a cosmopolitan and friendly nation" and it "refuses to allow the spread of activities by groups such as the Islamic State and Al-Qaeda in Europe."
"Die europäische Kultur ist bedroht": AfD-Sprecher würde auf Pegida-Demo gehen http://t.co/aov4Rx6syv@ntvdeさんから

— 孝仁 (@koji_takahito) December 9, 2014
"Dear Friends, dear fellow citizens, dear patriots! Monday is PEGIDA DAY and today we wish to show a peaceful sign...Bring your friends and neighbors and let us show the counter-demonstrators that we are NOT XENOPHOBIC and NOT ISLAMAPHOBIC …" the group wrote on its Facebook page.
Almanya Adalet Bak. herkesi #islam düsmani göszerilere karsi harekete gecmeye cagirdi. #PEGIDAhttp://t.co/dUs3rK4tzcpic.twitter.com/7WuwHjo4Po

— Hülya Topcu (@HulyaTopcu) December 9, 2014
PEGIDA has increased in popularity over the last seven weeks after the Dresden-based organization's initial march drew just a few hundred people in October. Last Monday's demo attracted a record 7,500.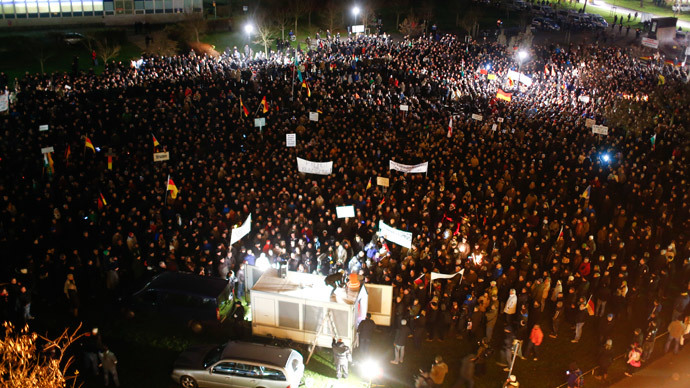 About 9,000 opponents of PEGIDA organized a counter-demonstration the same day. Among the participants were members of Christian churches, the Islamic center, the Jewish community, the Foreign Residents' Association and students.
10,000 protesters gathered in Dresden last night to protest against Islam. http://t.co/leVvgFOuTUpic.twitter.com/0uC5vScqLv"

— Fernando Almeida (@aralmaputo) December 9, 2014
"A lot of people do not care. They say why not march as long as we march for a good reason. But I'm worried that it is obviously no longer taboo to stand next to a Nazi at a demo," Silvio Lang from the 'Dresden Alliance Without Nazis' told Euronews.
The night the world can't ignore https://t.co/cekfiItUfa | https://t.co/HI3qaynXmxpic.twitter.com/LELldPEi2R

— Marius (@MMNewzz) December 9, 2014
Germany's Justice Minister Heiko Mass criticized the anti-Islam demo, saying "all political parties should distance themselves clearly from these protests."
Dresden is not the only city in Germany swept by similar protests. Anti-Islam rallies were held in Cologne, Hanover, Kassel, and Chemnitz.
Far-right group holds rallies in Germany: http://t.co/CzPSd1oiD2pic.twitter.com/oajH23sflA

— Circa (@Circa) December 9, 2014
READ MORE: 'Hooligans against Salafists': Violence erupts at huge far-right rally in Cologne
Germany is the second most favored destination after the US for refugees and asylum seekers, says a report by the Organization for Economic Co-operation and Development (OECD). In 2013, more than 450,000 people came to Germany as migrants.
You can share this story on social media: