'Hooligans against Salafists': Violence erupts at huge far-right rally in Cologne
Thirteen officers and one protester were injured as police used water cannons and pepper spray against far-right demonstrators who gathered in the western city of Cologne from across Germany to rally against Islamist extremism.
About 2,000 far-right and neo-Nazi protesters gathered in the center of Cologne to protest against Islamic extremism on Sunday, according to the German media. Some media reports suggested that at least 4,000 demonstrators gathered for the rally.
The demonstration was organized by the "Hooligans against Salafists" group also known as Ho.Ge.Sa. Salafism is a radical movement of Islam which has been growing in Germany, where it is represented by around 4,000 adherents.
Anti-immigration demonstrators including Ho.Ge.Sa members took to the streets reportedly chanting "foreigners out."
Violent clashes broke out between the anti-immigration groups when they were met by thousands of anti-fascist demonstrators.
Meanwhile in Cologne Germany #HoGeSapic.twitter.com/tGmgQJgCQh

— fiatcurrency ن (@fiatcurrency) October 26, 2014
The protests turned violent as the demonstrators threw bottles and incendiary devices, reports said.
Riot police were deployed at the scene with some reports suggesting that at least one thousand police officers were present.
Law enforcement responded with pepper spray, batons and water cannons. Footage from the scene showed a police vehicle which was overturned in the unrest.
Thirteen officers and one protester were injured, said police spokesman Andre Fassbender. He added that six people were detained.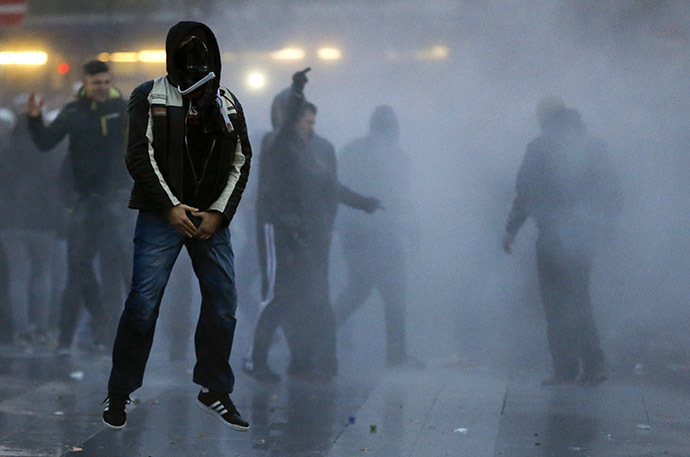 The protest was organized with the help of Facebook, where the moderator of the Ho.Ge.Sa. posted a call for a "peaceful, unmasked" demonstration "without rioting."
"On 26.10.2014 in Cologne, we will significantly increase this number of participants," he wrote.
The Ho.Ge.Sa. began on Facebook where anti-Islam soccer fans and neo-Nazi activists found mutual understanding.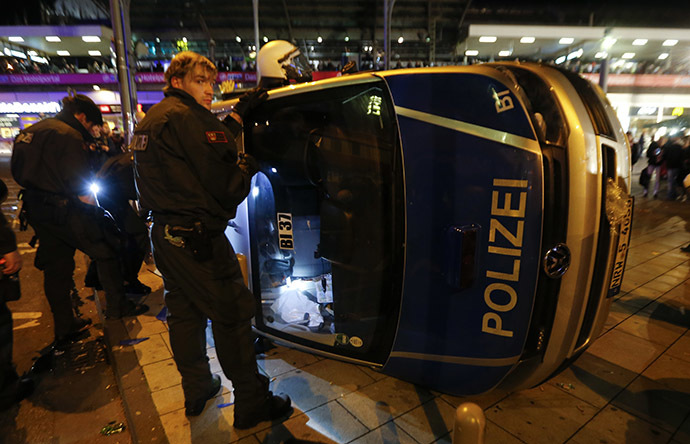 You can share this story on social media: