Australia ignored Tehran's warnings about Sydney hostage-taker - Iranian official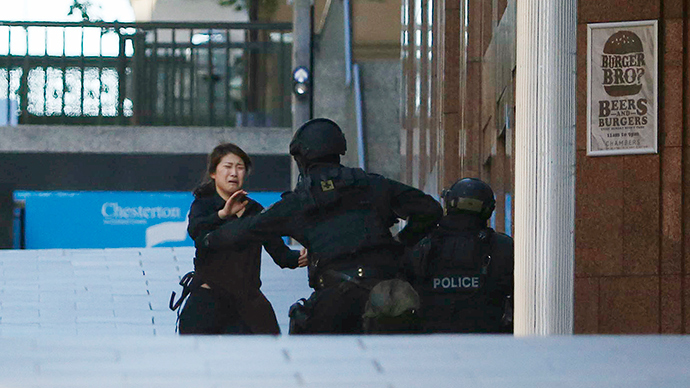 Iran had repeatedly warned Australia about the Islamist hostage-taker in Sydney whose 16-hour siege resulted in the deaths of two captives, before a police operation resulted in his death as well, according to a high-level Iranian official.
Iranian-born Australian Man Haron Monis was a 50-year-old Iranian refugee and Islamic extremist who had a previous track record.

Deputy Police Commissioner Catherine Burn confirmed that Monis had a "serious history of criminal offences and a history of violence," AFP reported Tuesday.

Iran's deputy foreign minister for Asia and Oceania affairs, Ebrahim Rahimpour, reported later in the day that Australia had ignored warnings about the potential danger that the man posed.

"Despite several notifications to the Australian government regarding his criminal background, no attention was paid," Rahimpour told Iranian state television. "We provided information and asked them to watch this person, but unfortunately they did not pay attention."
READ MORE: Heroic victims of Sydney café terrorist siege shielded pregnant friend, challenged terrorist
On Wednesday, Australian Prime Minister Tony Abbott demanded an inquiry into how Monis was not under surveillance despite facing serious charges and being out on bail. Abbott also announced that the Iranian-born hostage taker was mentally unstable.

"He had a long history of violent crime, infatuation with extremism, and mental instability," Abbott said. "As the siege unfolded...he sought to cloak his actions with the symbolism of the ISIL death cult."

Abbott said that authorities had awareness of the extremist outlook of Monis on account of the threat letters sent to Australian soldiers serving in the Middle East.

"How can someone who has had such a long and checkered history, not be on the appropriate watch-lists?" Abbott said.
Claims r swirling on internet (@EjmAlrai ) that 'Sheikh Haron' AKA 'Man Haron Monis' is hostage taker in #sydneysiegepic.twitter.com/oDGIptLoZo

— Seth Frantzman (@sfrantzman) December 15, 2014
Iran's police chief, Esmail Ahmadi Moghaddam, said that Monis was known as Manteghi, and left in 1996 after managing a travel agency. He had a wife and two children in Iran. Upon his initial departure he reportedly went to Malaysia before reaching Australia.

"We are prepared for a joint investigation and, if they send us his DNA, we can compare it with his family to see if he is that person or not," Moghaddam said in an online statement.
READ MORE: Sydney gunman identified as Iranian-born Man Haron Monis, on bail for violent crimes

Between 2000 and 2002, Monis styled himself as an "expert in astrology, numerology, meditation and black magic." More than 40 women have alleged that he used this as an opportunity to sexually assault vulnerable clients, who came to him for help.

Despite police concerns that Monis could attempt to extract revenge against his accusers, the preacher was once again released prior to his hearing.

Monis, who accumulated more than 14,000 followers on his Facebook page before it was shut down on Monday, accused the government of systematic persecution. He was due to face trial for both sets of charges next year.
You can share this story on social media: