Heroic victims of Sydney café terrorist siege shielded pregnant friend, challenged terrorist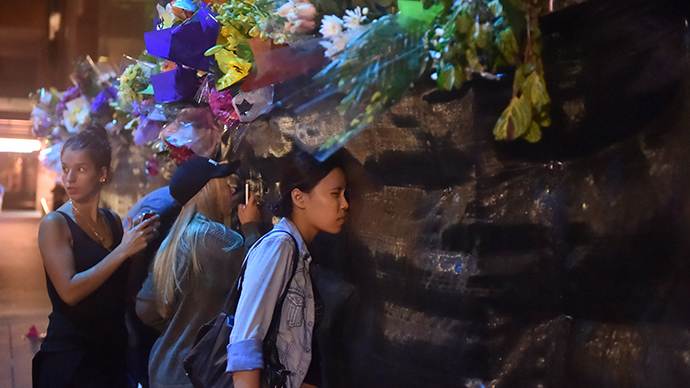 Two victims of the terrorist siege in the Sydney café have been hailed as heroes after it emerged that a barrister and the café manager died attempting to save others. The barrister shielded a pregnant friend and the manager tried tackling the terrorist.
Barrister Katrina Dawson, 38, died alongside Lindt cafe manager Tori Johnson, 34, in the more-than 16-hour terrorist siege. The gunman, 50-year-old Iranian refugee and Islamic extremist, Man Haron Monis, also died. The hostage crisis drew to a close when police stormed the building in the early hours of Tuesday morning.

At a prayer service held some 500 meters from the site of the attack at the city's Martin Place, Archbishop Anthony Fisher praised the heroic attempts of the two victims to save others later on Tuesday.

"Reports have emerged this morning of the heroism of the male victim of this siege," Fisher said.

"Apparently seeing an opportunity Tori Johnson grabbed the gun - tragically it went off killing him," he said, as cited by AFP.
We lost 2 people in the #sydneysiege RIP Tori and Katrina You will be remembered pic.twitter.com/YuLW0UGRNv" you're heroes

— Martin Petrak (@IamMartinPetrak) December 16, 2014
"But it triggered the response of the police and eventual freedom for most of the hostages," Fisher added, going on to speak highly of Dawson.

"Reports have also emerged that Katrina Dawson was shielding her pregnant friend from gunfire. These heroes were willing to lay down their lives so others might live."

READ MORE: 3 dead, 4 injured after police op in Sydney siege

Tearful Australians have since laid piles of flowers out for the victims of the terror attack - among them Australian Prime Minister Tony Abbott.
The memorial in Martin Place is staggering. Such sadness though #sydneysiegepic.twitter.com/vC4b95leXI

— Daz (@Dollar1075) December 16, 2014
A video has emerged from the scene of the horrifying incident filmed by the gunman who had been granted bail despite links to a previous murder. He had brought an Islamic State flag and clips showed captors in the café voicing his demands.

Deputy Police Commissioner Catherine Burn confirmed that Monis had a "serious history of criminal offences and a history of violence," reported AFP.

Monis instigated the incident, taking 17 hostages early Monday. Five managed to flee over the course of the ordeal, while it emerged after armed police stormed the building that the two hostages had been killed and four others injured.

READ MORE: Dramatic escape: #SydneySiege hostages run for freedom (PHOTOS, VIDEO)

"Two women have been taken to hospital with non-life threatening injuries, while a male police officer suffered a non-life threatening wound to his face from gunshot pellets and was taken to hospital," a New South Wales police statement said.

"Another woman has been taken to hospital with a gunshot wound to her shoulder. A 35-year-old woman was taken to hospital as a precaution."