Dramatic escape: #SydneySiege hostages run for freedom (PHOTOS, VIDEO)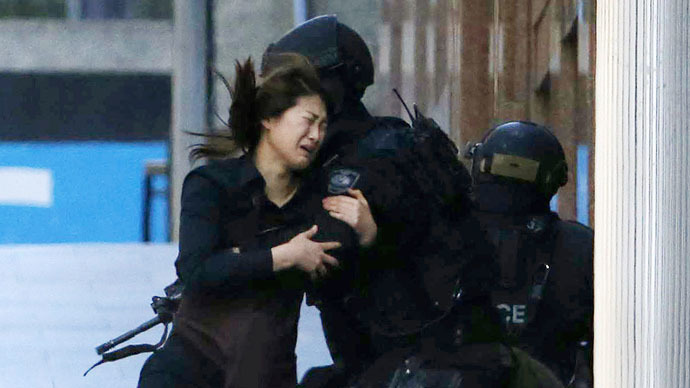 Dramatic footage and images were shot of several hostages escaping the besieged Lindt Café in central Sydney. The tense stand-off between Australian police and a gunman lasted over 16 hours and came to an end when police stormed the café.
READ MORE: #SydneySiege: 'Islamist' hostage drama in Australia LIVE UPDATES
The first group of five hostages escaped the Lindt Café late on Monday, after 10 hours of tension in central Sydney. First, three men ran out, followed later by two women wearing aprons, probably members of staff. It's not clear whether the gunman released them, or they seized the moment to run for safety.
Police confirm three people have emerged from the #Sydneysiege cafe. http://t.co/dFpbBijNkqpic.twitter.com/UqzdQWnBJO

— nzherald (@nzherald) December 15, 2014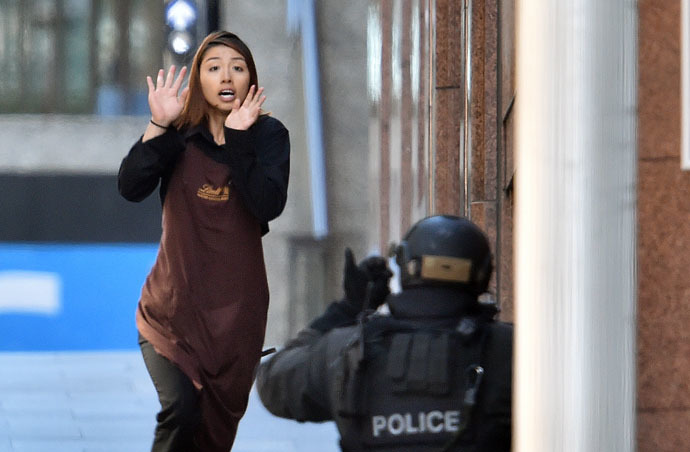 It was not immediately clear whether the gunman released them or they seized the moment to run for safety.
Aussie grand mufti & Imam Council condemn #Sydneysiege hostage capture http://t.co/m51P8dUPhB - LIVE UPDATES pic.twitter.com/tTw3kMkYTZ

— RT (@RT_com) December 15, 2014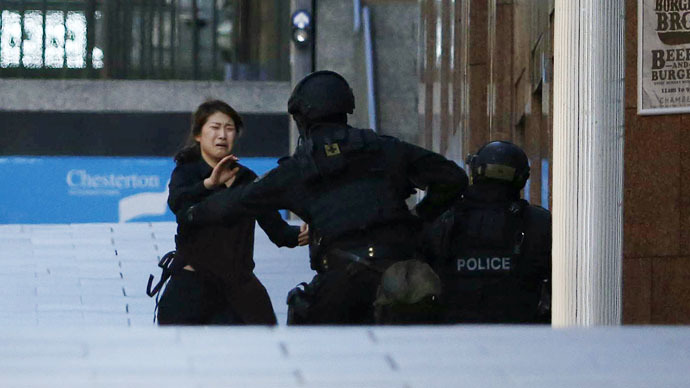 REPORTS: Gunman may have two different hostage groups separated. LIVE UPDATES: http://t.co/wTO5RzOWe0pic.twitter.com/gdAWVh6fHm

— Breaking911 (@Breaking911) December 15, 2014
Another group of hostages fled the café just after 2 am local time, after loud bangs were heard from inside. Following this, SWAT teams stormed the building.
BREAKING @SkyBusiness@SkyNewsAust: another five hostages seen escaping #sydneysiegepic.twitter.com/ySZStyLSDy

— Carson Scott (@carsonscottLIVE) December 15, 2014
As a result of the police operation at Sydney's Lindt Café on Monday, the gunman identified as Iranian-born Sheik Man Haron Monis was killed, New South Wales (NSW) police said.
Two hostages, a 34-year-old man and a 38-year-old woman, were pronounced dead after being taken to hospital, police said adding that four more including a policeman were injured.