Vienna may shut down controversial Saudi school
Published time: 15 Dec, 2014 22:37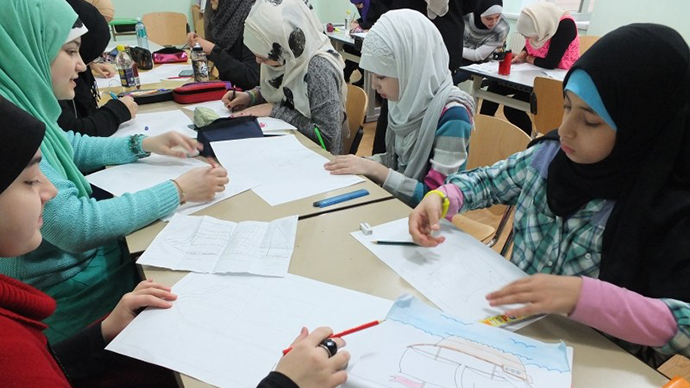 Vienna's Board of Education has ordered for a school owned by the Saudi government to stop operating by the end of the year, after it failed to provide a full list of its staff to authorities. The institution previously came under fire for its curriculum.
Located in the heart of the Austrian capital, the school has been educating 150 pupils since the start of this academic year. All lessons at the private institution are taught in Arabic, and comply with the Saudi curriculum. But the school has to be approved by the school board, if its students are to receive official Austrian education certificates. Supplying a full list of staff, so that they can be vetted, is a basic requirement which should have been fulfilled by December 1.
The educational authorities have refrained from handing out the harshest penalty within their power – immediate closure – which would only be enforced if the pupils were deemed to be in "physical or moral danger."
The institution has four weeks to appeal the decision, according to Reuters.
READ MORE: Austrian Saudi school 'teaching anti-Semitic values'
Controversial since its inception, the Saudi school became notorious when a reporter from News Magazine got hold of a copy of a history notebook used in the classrooms.
Its contents included age-old anti-Semitic conspiracies, and one excerpt stated that the Freemasons are "a Jewish, secret, subversive organization focused on guaranteeing control of the world by Jews."
Viennese authorities have requested that the school provide a copy of all of its educational materials in German.
The Saudi school has not responded to enquiries from the media, other than to say that it is dealing with official requests.
Objections to the curriculum taught inside the conservative Middle Eastern state, and in its growing network of oil-funded foreign schools, have been aired for more than a decade. Each time, the Saudi government – which provides textbooks for more than 5,000 children in the UK, according to the BBC – has replied that it has revised the content, in line with a more tolerant view of the world.
Yet, inspections of recent editions exhibit scant change in the institution's world view.
According to a report from the Hudson Institute's Center for Religious Freedom, a textbook intended for 13-year-olds, revised for the 2010-11 school year, contained sentiments such as "The Apes are the people of the Sabbath, the Jews; the Swine are the infidels of the communion of Jesus, the Christians." As a potential group activity, students were encouraged to spend time listing "Jews' condemnable qualities."
The same report demonstrated that older pupils were taught the notorious anti-Semitic forgeries, The Protocols of the Elders of Zion, as a set text.
An earlier report from Freedom House said that pupils of all ages were taught that spreading Islam through jihad is their "duty," and that "infidels" must not be socialized with, respected, or imitated.