'Eye of Sauron' finally appears in Moscow sky – but shares spotlight with holiday goodness
Published time: 14 Dec, 2014 20:37
Edited time: 16 Dec, 2014 13:31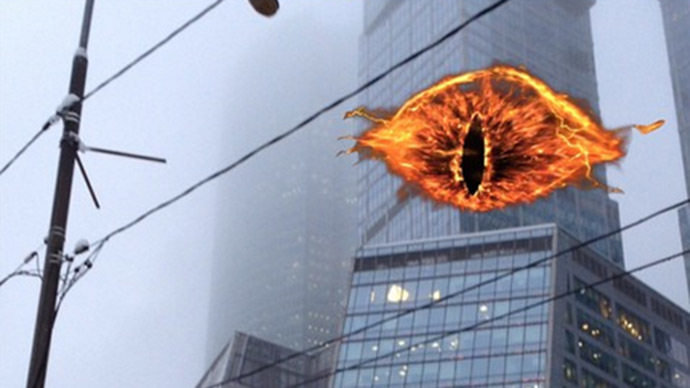 The Tolkien-inspired 'Eye of Sauron' eventually lit up Moscow's sky, following public controversy and opposition from the Orthodox Church. Having taken a virtual form, the image can be seen through the lens of a smartphone or tablet.
The evil eye appeared exactly where it was first planned to be installed – on top of a skyscraper in the Moscow City business area, a stone's throw away from the country's government office. The symbol, which has sparked controversy among Muscovites, is hidden from bare eyes; to see it, one needs a smartphone or tablet.
READ MORE: Real-life 'Eye of Sauron' will open up over Moscow skyscraper tower
The Russian company GiveAR – which creates augmented reality projects by using real-world objects supplemented with computer generated input – created a special code which can be used by those curious to see the Eye of Sauron.
READ MORE: 'You shall not pass': Eye of Sauron will NOT watch over Moscow
Око Саурона всё равно появится над «Москва-сити»! Мы взяли и установили Око Саурона на одно из зданий бизнес-центра самостоятельно! Не смотря на все запреты оно все равно наблюдает за городом, а увидеть его может любой, для этого понадобится телефон или планшет.) Любой желающий может увидеть его прямо на крыше здания, достаточно просто скачать бесплатное приложение Junaio и, отсканировав QR-код, – навести устройство на высотку! Лучше всего наблюдать с набережной!) Да, чуть не забыли! После премьеры фильма око немного перевоплотится! Во что? Пока что это секрет!:) Код ищите в нашем Instagram следующим постом. #ДополненнаяРеальность #око #ОкоСаурона #мордор#ВластелинКолец #хоббит #МоскваСити #БизнесЦентр #Орки#ВсевидящееОко #Афимолл #Россия #ОкоБудет #Москва #Саурона #givear
The Eye of Sauron – 'Oko Saurona' in Russian – sparked a debate in Moscow and beyond, on whether it would bring real trouble to the Russian capital. It was among the trending worldwide topics on Twitter this week.
Дополненную реальность рпц пока запретить не может :) #ОкоСаурона #Москва #Moscow #TheLordOfTheRings #Hobbit
An installation of the Eye of Sauron was first planned to appear in the city to celebrate the premiere of the latest Hobbit movie, but was labeled a "demonic symbol" by the Russian Orthodox Church. Over 1,500 people signed a petition to Moscow authorities, asking for it to be banned.
READ MORE: 'Eye of Sauron' on Moscow skyscraper to end up badly for city, Orthodox Church says
"Pictures of it will spread around the world, linking Putin to Sauron, Russia to Mordor, and Russians to orks," activists said, adding that all Tolkien fans could install as many eyes as they wanted, wherever they wanted. "In their dachas, for example."
Некоторые блогеры усмотрели политическую провокацию в идее зажечь «Око Саурона» над Москвой http://t.co/mH8XvjxdOLpic.twitter.com/Vye8gKHdto

— TJ (@tjournalru) December 9, 2014
"It took the Fellowship of the Ring three books and three films to take down the Eye of Sauron. The Russian Church needed just a couple of days," some people joked on Twitter, reacting to the controversy.
Москва и Мордор теперь синонимы. #ОкоСаурона #Хоббитpic.twitter.com/NaU2JWyPKR

— короче, (@bookeanarium) December 9, 2014
In the end, the virtual eye became more friendly than originally planned. With just one click, it can be transformed into a Christmas tree.
"We've satisfied interests of both Hobbit fans – who yearned to see a piece of their favorite fairytale in the real world – and haven't hurt the feelings of believers..." GiveAR said on social media.