'Eye of Sauron' on Moscow skyscraper to end up badly for city, Orthodox Church says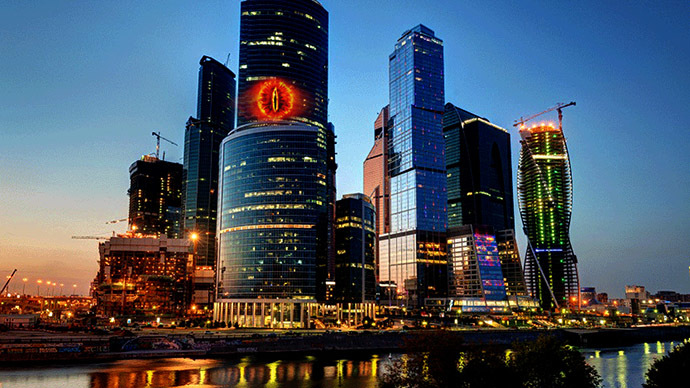 Russian Orthodox Church has slammed plans to erect a real-life 'Eye of Sauron' in Moscow, saying that the art project dedicated to the premiere of the final part of the "Hobbit" movie trilogy may have bad consequences for the Russian capital.
'Eye of Sauron' is "in any case, a demonic symbol," Archpriest Vsevolod Chaplin, a senior church official in charge of relations with the society, stressed.
"Such a symbol of triumphant evil rising above Moscow and becoming one of the tallest objects in the city…is it good or bad? I am afraid it's mostly bad. One shouldn't be surprised if something goes wrong with the city after that," Chaplin told Govorit Moskva radio station.
Russian art-group 'Svechenie' plan to create the scary installation which will be in place for some 9 hours is a tribute to British novelist J. R. R. Tolkien and film adaptations of his most famous works "The Lord of the Rings" and "The Hobbit."
A giant orb, with the projection of the fiery 'Eye of Sauron' on it, will be lit on the roof of one of the towers of the Moscow-City International Business Center on Wednesday, a day ahead of the Russian premiere of "The Hobbit: The Battle of the Five Armies."
According to Chaplin, such installations must be discussed "if not with the population of the capital, then with some cultural authority" before being erected.
READ MORE: Real-life 'Eye of Sauron' will open up over Moscow skyscraper tower

In Tolkien's "The Lord of the Rings" saga the 'Eye of Sauron' Eye was the symbol of power and fear through which the Dark Lord Sauron was able to exert his will over Middle-earth.
The epic fantasy adventure film trilogy based on Tolkien's novel was directed by New Zealand filmmaker, Peter Jackson.
The three movies, which were released between 2001 and 2004, won 17 Oscars and grossed $2.92 billion worldwide.
Following the global success of the "The Lord of the Rings," Tolkien's prequel novel "The Hobbit. Or There and Back Again" was also turned into a movie trilogy, with Jackson returning in the director's chair.