Botched cataract surgery leaves over dozen elderly people blinded in India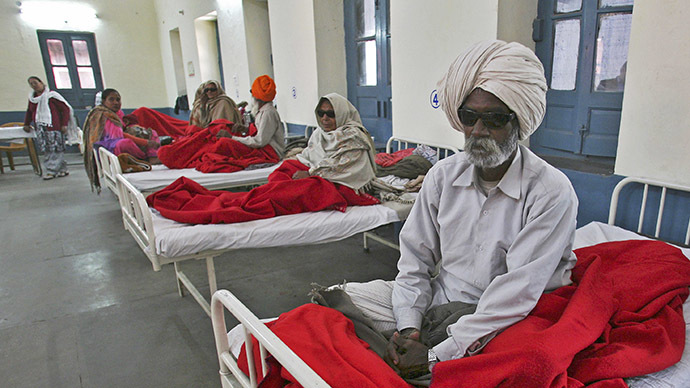 A doctor and a charity owner have been arrested after 16 people were blinded from severe eye infections after undergoing cataract surgery at a charity run medical camp in Amritsar, in the Punjab region of India.
The sixteen who have developed severe infections were among 62 people, all of whom were over 65, who had their cataracts removed on November 4. Of those patients with complications ten are in danger of losing sight in one eye and one person is in danger of going blind.
Officials have suggested that contaminated equipment, which had not been properly sterilized, may have been the cause of the infections.
READ MORE: 25,000 killed, 500,000 poisoned: Bhopal demands justice 30 yrs after world's worst chem disaster
But Dr Jeevan S Titiyal, a professor at the All India Institute of Medical Services, played down the level of risk that patients with infections now face.
"Even in cases of infection, injecting antibiotics in the eye's vitreous cavity located behind the lens and in front of the retina is all that's needed to control it," he said as quoted by the Hindustan Times.
"A follow-up is done the next day and patients are told to report any eye-related problem over the next two months. A follow-up two to four weeks after the surgery is a must," he added.
But in this case no follow ups were done and the district administration only found out about the case after some of the patients were shown to deputy commissioner Ravi Bhagat.
READ MORE: Eight women die in India after botched govt-sanctioned sterilization
The founder of the camp, Manjit Joshi, as well as Dr Vivek Arora who carried out the surgery have been detained by police.
Amritsar's chief medical officer, Dr. Rajiv Bhalla, also said the charity did not receive proper permission to set up the camp.
This is the second time in a few weeks that medical negligence and poor infection control has hit the headlines in India - earlier 15 women died after surgery at a sterilization camp.
This is also not the first time that routine cataract surgery has been the cause of serious problems in India. Between 2008 and 2009, 14 patients lost their eye sight after the procedure in Pradesh state. And in August 2008 eight patients went completely blind and another 21 went partially blind after surgery in Tamil Nadu.
Cataracts are the main cause of impaired sight all over the world. According to the World Health Organization (WHO), in India there are some 12 million blind people, in 80-90 percent of cases their blindness is curable and preventable.