Illegal trash trade: E-waste smuggling contaminate developing countries
Disposing of electronic waste these days somehow resembles dumping radioactive waste in a third-world country: it's illegal, but profitable. Millions of tons of used electronics end up in Asia and Africa, where recycling is a big yet dangerous business.
New models of gadgets and electronic components are released every day, while outdated computers, television sets, mobile phones, printers, fax machines are sent to the already existing, multi-million ton scrap heaps in the 'Golden Billion' countries.
A total of 9 million tons of e-waste is scrapped in the European Union every year, while Britain contributes an estimated 1.5 million tons to it, according to RT's correspondent Sara Firth .
Two-thirds of the UK's fastest growing refuse sector turn a quick profit for itchy-fingered traders, who effectively dodge recycling costs and illegally export broken goods to developing countries.
In a bid to cope with the problem of e-waste smuggling, in 2012 the EU amended the directive on the waste of  electrical and electronic equipment (WEEE). The document is aimed at preventing the export of anything outdated or broken to developing countries.
While Britain abides by the EU directive, the situation with electronic waste in the Kingdom is particularly disturbing, with illegal traders selling used materials abroad, mostly to  the African states of Nigeria and Ghana, instead of recycling it, Firth reports.
"For example if you have a contract to recycle broken electronic goods, then you're supposed to break those down into the component parts safely and in a safe environment. But there's a cost involved with that. So if you can get paid to do that recycling but instead of doing that recycling just ship it out in containers to places like West Africa – you're avoiding a fee and you're getting paid, making more money that way," explains Julian Newman from the Britain's Environmental Investigations Agency, which back in 2011 presented a report on the illegal trade of electronic waste in Britain.
Black market grows, reputable recyclers suffer
Recycling of electronic waste is highly expensive because some components are either dangerous for the environment or flat out toxic. E-waste contains lead, mercury, cadmium and other heavy metals that can cause serious neurological damage. So there are some wise garbage-disposal companies that earn a double profit on household garbage: instead of remunerated utilization of outdated electronics they simply sell it, shipping the problem abroad.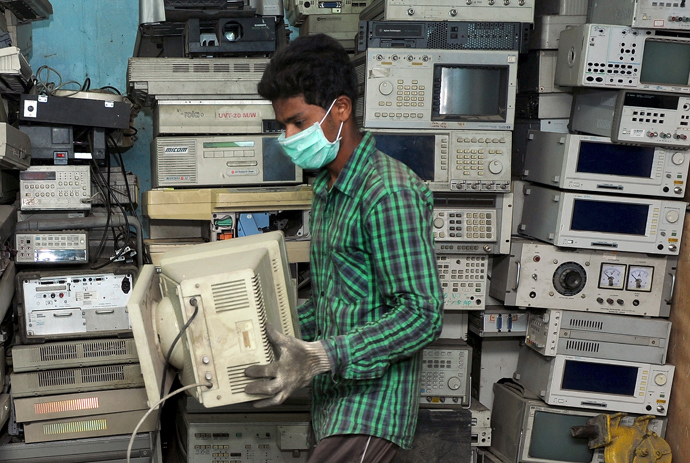 Reputable recycling sites which process e-waste in a proper manner, extract from it not only basic metals, but silver and gold as well.
Despite the high costs of recycling, these companies are turning a profit, as the cost of the metals they extract from old electronics is also high.
As the illegal industry continues to grow, black market traders could price reputable recyclers who bear much greater expenses out of the market.
"It's wrong. And it will affect someone. Down the line it may affect us. If people continue to do it wrong and illegally there could be no trade left for us legitimate merchants. So yes, it does have a big impact and it's something we're concerned about," RT e-recycler James Hughes told RT.
In the last few years the British government's Environment Agency has been slowly getting to grips with the problem and has made a number of successful prosecutions.
According to the "Recycling – From E-waste to Resources" report released by the UN's Environment Program in July 2009, around 40 million metric tons of e-waste are produced globally each year. In the US alone over 112,000 laptops and desktop computers were discarded daily in 2009 and today the situation could be even worse
But industry insiders estimate up to half of all computers discarded in the UK enter illegal trade streams.
According to the 2012 report of Geneva's International Labour Organization, of the e-waste in developed countries that is sent for recycling, 80 percent ends up being shipped (often illegally) to developing countries such as China, India, Ghana and Nigeria for recycling.
Environmentalist and Associate Director of Toxics Link Satish Sinha told RT that India is particularly weak in this issue.
"India is a favorite destination for almost all kinds of waste, not only e-waste. Environmental regulations and oversight mechanism is very weak in this country and I think that's true for most developing countries at this point in time," said Sinha.
In the countries where the waste is received, it is young children who are often involved in breaking down the equipment that contains harmful chemicals. Those children are facing serious health consequences, becoming victims of heavy diseases, such as asthma.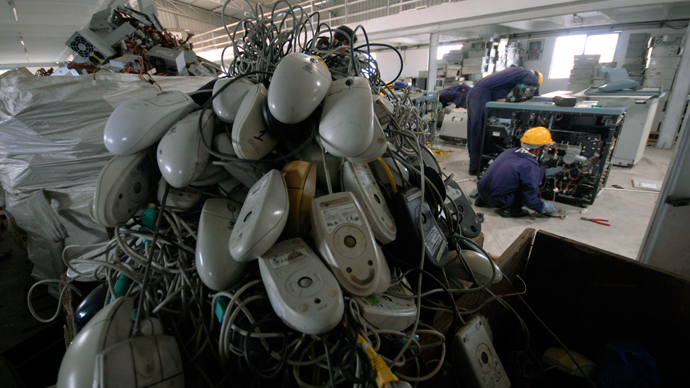 E-waste smuggling – a threat to national security
The US, the world's largest producer of e-waste, has a similar problem with recycling companies that practice illegal schemes to redirect e-waste to China.
In July 2013, in order to stimulate the US recycling industry, American Representatives introduced "The Responsible Electronics Recycling Act" (RERA), banning e-waste overseas dumping by American companies.
Among environmental and health risks posed by improper e-waste recycling, the document also mentions a potential threat to national security, as sensitive data could remain on hard drives of old computers, data storage devices or in the memory of cell phones.
The responsibility for ensuring security falls on the shoulders of developed nations, as they are technologically capable of dealing with the problem, Sinha told RT.
"Countries that are placed so differently, they have the capacity to deal with it. They are the countries that are technologically advanced, they have the financial resources, they have the infrastructure to deal with this kind of waste," the environmentalist said. "I think there's a certain amount of responsibility. They have more responsibility to deal with this and to ensure that the poorer countries don't receive the baton – that they don't pass on the baton to the poorer countries."
But as long as the majority of the world's population lives in extreme need, the e-waste trade will flourish, however illegal and dangerous it might be.