Global urban waste: Problem 'on scale with climate change'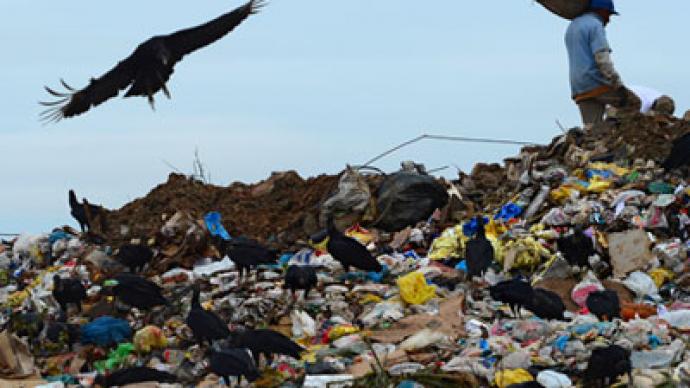 Some world cities are becoming crippled by garbage, and the problem is only worsening as governments struggle to cope. According to a new report by the World Bank, urban rubbish generation is set to increase twofold over the next 15 years.
As global living standards and urban populations continue to rise, so do the mountains of trash we produce. Household waste is set to soar from its current 1.3 billion tons to 2.2 billion by 2025, while the annual cost of managing this mountain of rubbish will rise from $205 billion to $375 billion. The authors of the report warn of an impending crisis as the countries with the highest cleanup bills will be among the poorer nations, who are the least able to afford it. The amount of municipal solid waste is growing fastest in China, other parts of East Asia, the Middle East and parts of Eastern Europe, while in sub-Saharan Africa the problem is that waste is often not collected at all, the report says. In 2004 China overtook the US as the world's biggest producer of garbage.Although the report stressed the issue's global importance, Dan Hoornweg, its lead author, told RT it is ultimately a local problem and "for any government initiatives to work, the public has to be involved."The Naples rubbish crisis in Italy, which has been festering since 2008 and remains unresolved, shows what can happen when a city's trash is left to rot in the streets. Local government failed to deal with the problem, so then-President Silvio Berlusconi was forced to call the army in twice to clear up the mounting rubbish and avert a political and health crisis. A lack of investment in landfill sites, technical problems at incinerators and mafia involvement in toxic waste dumping are the long-term causes of Naples' rubbish problem. But those at the top only stepped in in the run-up to elections, leading many residents to question whether political leaders are committed to an unappealing issue normally low the political agenda.  A similar crisis in Mexico City, after the closure of a huge landfill site, led environmentalists to call for long-term answers. The Bordo Poniente site, which by the beginning of the century was bursting with rubbish and threatening the city's water supplies, was finally closed in December 2011. As a short-term solution, authorities are trucking trash to smaller dumps in a neighboring state, causing traffic chaos and incensing local residents along the route. Mexico City has tentative plans to introduce recycling, but they are basic and, like Italy, controlled by organized crime bosses. Garbage is a problem authorities in Mexico are struggling to deal with. The report suggests that the introduction of an integrated waste management plan is vital to tackling the issue. But as seen in Mexico, it is often the more economically advanced countries which have developed recycling, reduction and reuse campaigns.   The report also stresses that strengthening waste management can be an effective way of improving the overall municipal government, as nations that can't collect their garbage are rarely able to manage more complex services such as health care, education and transport. "The challenges are going to be enormous, on a scale, if not greater than, the challenges we are currently facing with climate change. It's a relatively silent problem that is growing daily," Hoornweg told The Guardian. The rubbish problem not only can be compared to climate change, but is also contributing to it. Greenhouse gas emissions from rubbish disposal, estimated at 5% of total emissions, must also be reduced, the report says. Methane from landfill sites accounts for 12% of total global methane emissions.
You can share this story on social media: