Danish stomachs left churning after hospital food prepared in cement mixer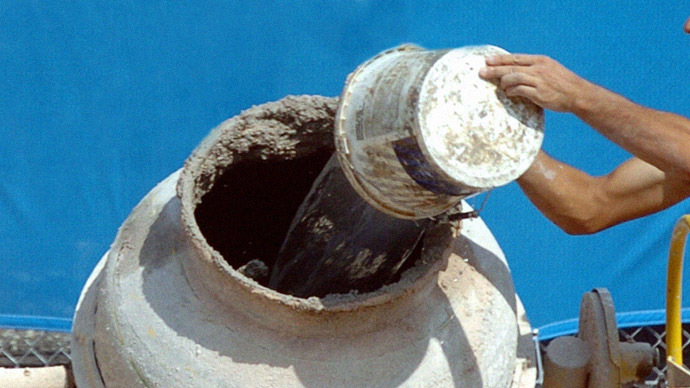 A food company from Denmark has been supplying food to hospitals after preparing it in a cement mixer. The discovery was made by the country's food watchdog who said the levels of hygiene at their production facility were "abysmal."
The Danish Food and Veterinary Administration (Fodevarestyrelsen) found that the food company, Nordic Ingredients, grossly violated hygiene rules when they used a cement mixer to produce soft foods. The products were delivered to hospitals and nursing homes for patients who had trouble swallowing regular food stuffs, The Local reported.
A Food and Veterinary Administration official said the company's overall level of hygiene was atrocious.
"Their production facilities were nowhere near clean enough. It wasn't just a case of it being bit messy from the last production, and we judged that the standard of cleaning was wholly unsatisfactory," Henriette Mynster told the DR (Danish Broadcasting Corporation).
Mynster said that the cement mixer didn't appear to have been cleaned between uses.
"It was an orange cement mixer just like bricklayers use. There were layers from previous uses, where bacteria and other micro-organisms can easily hide," Mynster told Nordjyske newspaper.
Nordic Ingredients has now had its production facilities shut down. The company produced products such as rye bread, jelly and cucumber jelly, as well as powder mixes in flavors ranging from beef and bacon, to roast pork.
The Danish Veterinary and Food Administration has shut down the production facilities of food manufacturer Nordi... http://t.co/fi1NdGKPBX

— DBC News (@DBC_News) November 28, 2014
Around a dozen public health organizations received products from Nordic Ingredients and many of them have already destroyed foods, which had been delivered. Facilities that have received the cement mixer food include Svendborg Hospital, Aalborg University Hospital and Vendsyssel Hospital.
READ MORE: Chinese space team survives on worm diet for 105 days
Denmark has been hit by a string of health scares in recent months. In late September, three people died from listeria-infested asparagus soup at Odense University Hospital. The listeria problem resurfaced on November 11, as 3,000 school children in 40 schools across Copenhagen were potentially served listeria-infected food.
"We are clearly taking this very seriously, and are currently following all of the recommendations from Fodevarestyrelsen in order to ensure it doesn't happen again," Lina Maria Johnsson, the head of the city's health department, told the Danish Broadcasting Corporation.
Of all of #Denmark's recent food scandals – and there have been a lot – this may be the nastiest http://t.co/SdhjTJTyYZ

— Justin Cremer (@justinCPH) November 28, 2014
Confidence in Danish foods has not been helped by a cover-up scandal that emerged over the summer. The Skare food company delivered beef to stores on June 13, but didn't recall the meat as required by law when tests found salmonella the next day.
As many as 130 people could have been infected, with six hospitalized. The Danish Food and Veterinary Administration was aware of the case, but they decided not to order a recall, and neither they nor the Skare food company would tell customers which stores were affected, according to The Local.
"This is confidential information, the release of which would cause considerable economic harm to the company,"the health officials wrote, according to Metroxpress, who broke the news of the scandal.
Meanwhile, food safety expert Orla Zinck called the authorities' decision "a scandal of unimaginable proportions."
"Fodevarestrylsen's acts are a danger to consumers' health when it, out of consideration for Skare's revenues, fails to recall dangerous meat and on top of that hides where it was sold," Zinck told Metroxpress.