Voodoo chicken killing shocks Geneva, prompts calls for CCTV surveillance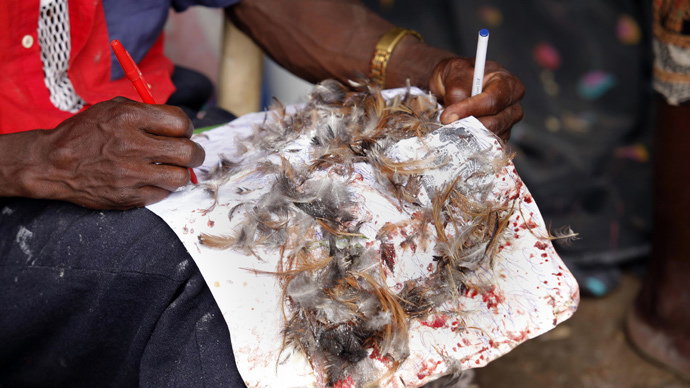 A dead chicken killed voodoo-style has been found in a park in Geneva, Switzerland. Shocked locals are demanding surveillance cameras at the site, while a government agency is speculating whether such killings are against the law.
A white chicken was found with its throat chopped and innards removed in Budé park, Petit-Saconnex district. The carcass, which was found by dog walkers, was lying in plain sight on a white sheet covered in blood.

Candles, pieces of potato, eggs, and coin grains were also found at the site, along with a vest, sweater, and jeans belonging to a young girl, The Local reported.

"It's disgusting! There are plenty of kids who play in this park," one of the dog owners who came across the dead chicken told Le Matin, a Swiss newspaper.

According to Jean-Philippe Brandt, spokesperson for Geneva police, the incident "seemed like a voodoo ceremony."

Geneva's Food and Veterinary Affairs Service (SCAV) is planning to launch an investigation into the case.

Residents took the remains of the chicken were taken to a local protection group, and have written a petition to install surveillance cameras in the area.

However, SCAV spokesman Laurent Paoliello told Le Matin that killing a chicken in a voodoo ceremony may not be against animal protection laws.

"It all depends on the manner in which the animal was killed, if it was stunned or not before being decapitated," he said.