5 students detained for 'Hunger Games' salute at Thai PM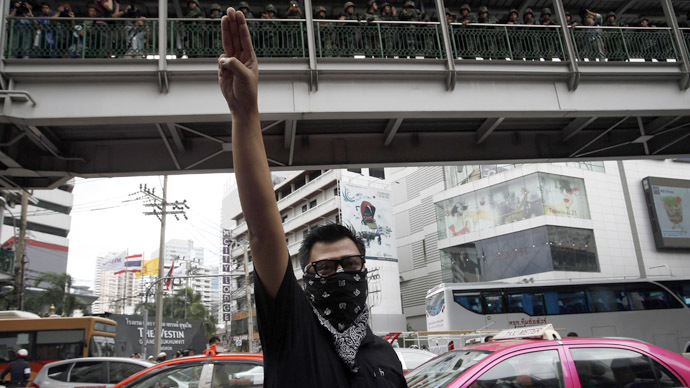 Five Thai students were held by the police after using a three-finger salute from the Hollywood blockbuster 'The Hunger Games', widespread among protesters, in front of Thailand's new army-backed prime minister.
Prime Minister General Prayuth Chan-ocha was making a speech at an event in the north-eastern province of Khon Kaen. Five students from the local university stood up, took off their shirts to reveal the slogan 'Don't Want a Coup' on their T-shirts and flashed the tri-fingered salute, banned by the military in June, AP reported on Wednesday.
Police officers and soldiers immediately detained the five and took them away to a police station.
"Who else wants to protest?" PM Prayuth said after 5 students were arrested for showing #HungerGames salute #Thailandpic.twitter.com/KJ7fGCnBmW

— Sunai (@sunaibkk) November 19, 2014
Later they were sent to an army camp, where they were questioned by soldiers, human rights lawyer Sasinan Thamnithinan said, according to AP. She added they have not been charged.
Prayuth was reported to paused, smiling calmly. "Does anyone else want to protest? Come quickly. Then I can continue with my speech," he addressed the audience.
In #Thailand showing 3-finger salute to oppose military junta is a crime. 5 more students arrested today #HungerGamespic.twitter.com/7HJxG7F9wq

— Sunai (@sunaibkk) November 19, 2014
The province is known as a stronghold of former PM Thaksin Shinawatra, who was ousted in a 2006 coup. Reportedly, anti-coup leaflets had been distributed in the area before the visit of the general.
The daring silent protest was encouraged by the wave of protests across Thailand in May, which opposed the military coup, but was suppressed by police.
"Kon-rak-ban-kerd" group in Loey flashed 3 finger salute to cheer up 5 KK students via @sumalee_nnaesan#Thaicouppic.twitter.com/lNFF4OKFgM

— Skully (@chomsowhat) November 20, 2014
Prayuth was the leader of the May 22 coup that declared martial law, coming after months of political instability and unrest. He became PM in August, and his government has been criticized by the Amnesty International since for widespread human rights violations.
The Hunger Games gesture is used by characters in the book trilogy and films as a sign of silent rebellion against an authoritarian state. It symbolizes gratitude, admiration and goodbye to a loved one.
Police waiting in front of Paragon cinema, looking for #HungerGames salute protesters. 3 have been arrested already. pic.twitter.com/AS01JpVbqk

— Sunai (@sunaibkk) November 20, 2014
For Thai protesters, however, the three fingers also recall the French Revolution's values of liberty, equality, fraternity. Other sources cite freedom, election and democracy.
RT @LLTD_TU Female student who flashed 3-finger-salute at #HungerGames screening were arrested at Paragon #ThaiCouppic.twitter.com/i81qMBugNI

— Sutharee Wannasiri (@SuthareeW) November 20, 2014
The third movie in the 'The Hunger Games' series, 'Mockingjay', opens in Thai cinemas on Thursday. Heavy police presence is reported at the premiere.