US ramps up Iraq troop-training mission to counter growing ISIS threat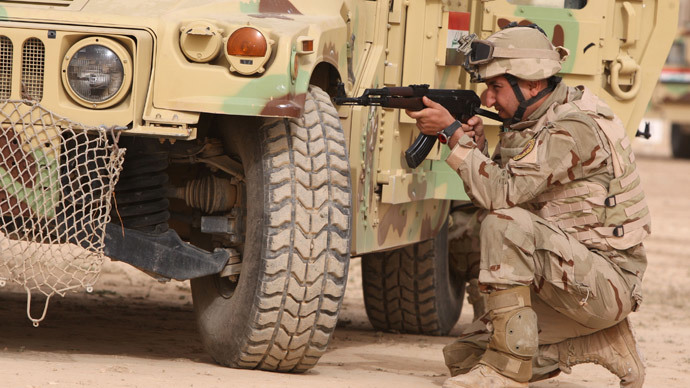 Washington says the Pentagon is speeding up its efforts to train Iraqi forces in the fight against the Islamic State. Defense Secretary Chuck Hagel also mentioned that US troops already in Iraq would be used.
General Lloyd Austin, head of US forces in the region, made the request to accelerate the process. Around 50 special operations troops are at the Ain Al-Asad airbase, which was used by the US military in the Iraq War from 2003-11. They are working on training programs to try and counter the threat of Islamic State (IS, formerly ISIS/ISIL) militants.
"We agreed with General Austin's recommendations to take some of the special operations forces that he has in Iraq and give them some early missions with the Iraqi security forces in Anbar province just to kind of continue the mission, accelerate the mission," Hagel said, speaking to reporters at the Army's National Training Center at Fort Irwin, California, which was reported by Reuters.
"So yes, we're doing what we can with the resources we have to give some acceleration to that," he added.
#SecDef to @NTC_UPDATE: I want to thank you & I appreciate the opportunity to come out and witness this training. pic.twitter.com/oaj3LSwjX2

— U.S. Dept of Defense (@DeptofDefense) November 16, 2014
There are currently around 1,600 US military personnel in Iraq advising Iraqi government forces. Washington expects to train nine Iraqi security brigades and three Kurdish Peshmerga brigades, according to AP. Meanwhile, on November 7, President Barack Obama announced that an extra 1,500 troops would be sent to Iraq to help with the training process and set up two more centers to prepare local forces for combat.
"This has to be an Iraqi effort," Hagel said, adding: "It is their country. They have to do this themselves," AP reported.
The Pentagon also hopes the moves to speed up the training process of Iraqi forces will help to engage other countries in sending advisers to Iraq to educate local troops.
#SecDef Hagel has landed at @NTC_UPDATE for a troop visit and to watch a training demonstration. https://t.co/FPThHayUTM

— DoDNews (@DoDNews) November 16, 2014
The US is seeking to learn from its previous mistakes and approach this mission under an umbrella coalition, believing a partnership of nations has a much greater chance of undermining the appeal of the IS.
"This time we want to have a partner in the government of Iraq that actually takes ownership of the security threats that face their nation," he said. "We want to enable them, so that as this thing evolves … ISIL is rejected by the Iraqi population," said Army General Martin E. Dempsey, who visited Baghdad over the weekend. He also added it could take several years to defeat the IS, as reported by the US Department of Defense website.
No other nations have made concrete pledges to help, but Navy Rear Admiral John Kirby, Hagel's spokesman, says around 12 countries have already made verbal agreements to provide assistance.
On Sunday, a senior Iraqi Kurdish leader claimed that the IS had an army of about 200,000, six times larger than previous CIA estimates.
"I am talking about hundreds of thousands of fighters because they are able to mobilize young Arab men in the territory they have taken," Fuad Hussein, the chief of staff of the Iraqi Kurdish President Massoud Barzani said.