Hundreds protest in G20 host city amid heavy police presence (PHOTOS, VIDEO)
Published time: 15 Nov, 2014 14:07
Edited time: 15 Nov, 2014 14:15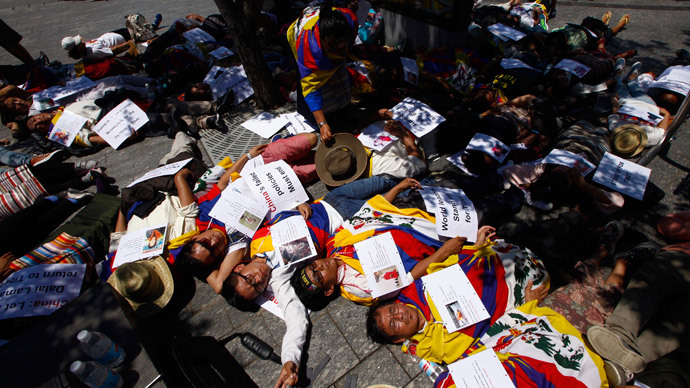 As G20 world leaders complete their first day at the Brisbane summit in Australia, hundreds of people have taken to the streets to voice their concerns on various issues, ranging from Ebola to climate change.
About 2,000 activists demonstrated next to the summit venue at South Bank, local media reported. It was a peaceful gathering, with activists protesting against capitalism, war and Australia's inaction.
A protest dubbed the "People's march" was held near Queensland Police headquarters. Activists wanted to draw worldwide attention to issues like the mistreatment of refugees, indigenous rights and the Ebola virus.
"We have no input into these meetings that disrupt our everyday lives and will continue to have negative impacts, in terms of their economic policy," organiser Fern York, from activist group BrisCan, told Australia's 7News.
Some protesters held "QUIT Coal, Oil, Gas" banners, in an attempt to draw attention to the country's ecological problems. Others highlighted the recent situation in Mexico, where students have been missing since a protest in September.
Last Friday, the Mexican attorney general said the students were probably abducted by police and handed over to a local Guerreros Unidos gang, who murdered them and burned their bodies.
"We support the campaign for justice in Mexico," BrisCAN group organiser Anthony Skerritt told The Sydney Morning Herald. "Those people [the G20 leaders] are speaking about ways and thinking about ways to make us pay, thinking about ways to make us sacrifice."
The Climate Angels tell the police coal is not good for humanity @TonyAbbottMHR#G20#g20march#auspolpic.twitter.com/LSDN9Y0aoU

— WACA (@akaWACA) November 15, 2014
Mexican President Enrique Pena Nieto is one of the leaders at the G20 summit.
Some of the most bizarre figures at the protest were the so-called Climate Guardians or Climate Angels, who sported eye-catching, angelic wings.
People's rally in Brisbane #g20pic.twitter.com/MOwRNv4kUe

— Monika Kalinowska (@mkalinowskaa) November 15, 2014
"We formed the Climate Angels out of desperation because we felt the government was not taking sufficient action for the climate crisis and our children were being led into a volatile future," Liz Conor, the group's spokesperson said.

"It's urgent, we need action, and if they are not going to listen to science, maybe they will listen to the angels," she added.

The Warriors of Aboriginal Resistance, chanting "Genocidal 20" and "Resist… Revive… Decolonize…" also took part in the protest.
COMING UP: Three people were arrested during #G20 protests today in #Brisbanepic.twitter.com/PHfQfp3aUQ

— 7News Brisbane (@7NewsBrisbane) November 15, 2014

"It [the G20 summit] gives us the opportunity to put forward our issues and that does shame the Australian government," WAR spokesman Boe Spearim, from the Brisbane Sovereign Embassy at Musgrave Park told The Brisbane Times.

"There's a lot of Aboriginal people talking about independence and there's a lot of Aboriginal people talking about treaties," he added.
READ MORE: 'Nothing but bushes': Australian PM compares nation to moon prior to British colonization

Coal kills. The climate guardians here to help #G20marchpic.twitter.com/FDPfnvTgUI

— Anne Carlin (@sacarlin48) November 15, 2014
One group took issue against Russian President Vladimir Putin. Some protesters carried a photo-shopped image, showing Putin as Doctor Evil from the Austin Powers film series, while another banner said "Putin Not Welcome in Oz."

Among the protesters were also Tibetan supporters from all over Australia. They wanted to attract the G20 leaders' attention to the region's strained relations with Beijing.
Police arrested 11 people during the protests and excluded about 19 people from the G20's security zone, Deputy Commissioner Ross Barnett told 7News.

"The multiple groups who joined together for this march worked constructively with police commanders and negotiators in difficult conditions to ensure that the march proceeded without incident," he added.
Activist Ciaran O'Reilly, who has been banned from G20 security zone in Brisbane, has been also detained.
READ MORE: Activist banned from G20 area was aiming to confront Obama over Assange, Manning
About 7,000 officers from Queensland Police and the Australian Federal Police are currently monitoring the demonstration.
So@TonyAbbottMHRis a coward and fled out a side door spooked by the Climate Angels. Now deciding next move#G20pic.twitter.com/k2s6MtHqfn

— WACA (@akaWACA) November 15, 2014
#g20marchpic.twitter.com/3RcGDsxwNf

— Briscan-g20 (@BriscanG20) November 15, 2014
Congrats to @BriscanG20 on pulling off a great #g20 rally. Few thousand people took to street even w soaring temps. pic.twitter.com/PL0Vpayr2o

— Amanda Cahill (@cahill_amanda) November 15, 2014
Young indigenous warriors on the march @BriscanG20#genocidal20 on Aboriginal land!!! pic.twitter.com/eJ0MPxmvJM

— Michelle (@emocthefirst) November 15, 2014