Party frau: Merkel spotted mingling with pub drinker on first G20 night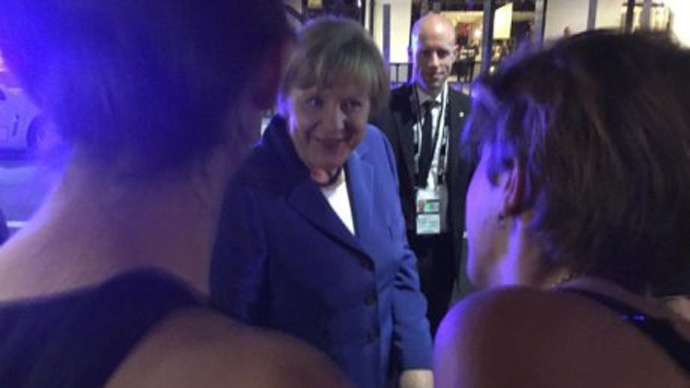 German Chancellor Angela Merkel took a break from world politics and visited a pub on her first G20 night in Brisbane, snapping selfies with tourists and shaking hands with locals.
People sitting in the pub cheered as they saw Merkel get out of her motorcade at around 11 p.m. local time and cross Caxton Street to Brewski bar. The Brisbane area is known for its wild nightlife and parties.
Amazing. Merkel crossed the road, mingling with locals & shaking hands with German pub goers @tennewsqld#G20Brisbanepic.twitter.com/LHLappnqRk

— Sarah Greenhalgh (@GreenhalghSarah) November 14, 2014
"So anyway, Angela Merkel, Chancellor of Germany, just dropped into Brewski," a post on the bar's Facebook page read.
The cheerful German leader made her way through a line-up of people, shaking hands and meeting as many as she could.
"She knows where the party's at," Kirsten Sealey wrote on Facebook.
She mingled with local drinkers before proceeding to her lodging at Gambaro Hotel.
German Chancellor Angela #Merkel having a good time in #CaxtonStreet. Pic: Sarah Keayes #G20#AUSPOLpic.twitter.com/ZMnB7tkBaq

— Аясніё Моояэ (@ArchieM00re) November 14, 2014
To mark her visit, the pub played the 1980s German pop song 99 Luftballons in her honor after she left.
Courier-Mail photographer Sarah Keayes was one of the few who got the chance to snap a selfie with Merkel.
"It was super cool," Keayes wrote on her Facebook page. "She got out of her motorcade and crossed the road to meet us."
Brewski on #caxton playing "99 red balloons" in honour of Chancellor Angela Merkel's guest appearance #floatinginthebrisbanesky

— Emilee Woolcock (@Emi_leeW) November 14, 2014
At the same time, another G20 leader, British Prime Minister David Cameron, was seen dining at the Stokehouse restaurant at South Bank on Friday evening.
Before arriving in Australia, Merkel visited New Zealand, where she pet a kiwi bird and experienced the traditional nose-to-nose Maori greeting known as 'hongi.'