'Bad rap!' How gum-chewing Obama outraged China & other Star Trek adventures at APEC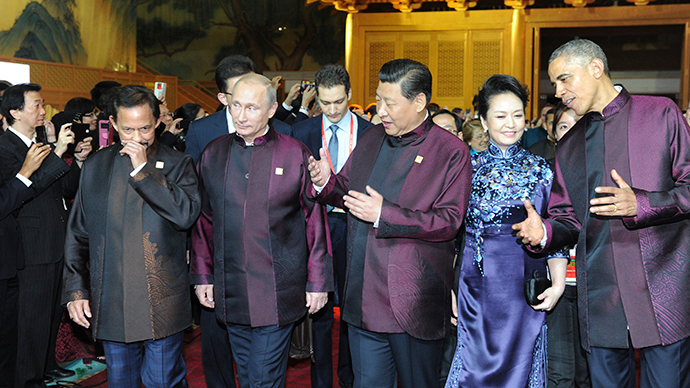 This year's APEC summit in Beijing totally rocked - in the sense that it not only landed some historic deals, but also amused onlookers, censors and critics. Between #shawlgate and a gum-chewing President Obama, there was a lot to talk about.
#Shawlgate
While many Russians thought Vladimir Putin came out looking like a gentleman after offering a shawl to China's First Lady Peng Liyuan on a chilly autumn evening, the incident did not go over well in China.
It seemed to paint a not-very-attentive Chinese President Xi Jinping in a bad light, and was subsequently censored from news bulletins in the country.
Star Trekking across the APEC summit
At a certain moment, you could be forgiven for thinking the latest Star Trek convention had descended on Beijing - but maybe the fact there was not a Klingon in sight gave the game away.
APEC summits are known for world leaders wearing local attire, such as ponchos in Peru in 2008. This time around, the leaders were made to go forth and prosper in jackets based on 'Mao tunics', once a favorite with China's leaders.
Go forth & prosper: APEC leaders in China don Star Trek-style jackets http://t.co/tdO4YkpLg6pic.twitter.com/dDACdqQ86Q

— RT (@RT_com) November 10, 2014
Gum Gum style
The US president caught chewing gum did not go down very well with the locals. In China, this is considered a social no-no. Local internet users, used to far greater levels of formality from their leaders, branded him an idler... and even a rapper.
VIDEO: President Obama's gum chewing irks some Chinese at APEC Summit http://t.co/CVy2ua4qYb#abc15pic.twitter.com/xUKsuAkl1L

— ABC15 Arizona (@abc15) November 11, 2014
This is not the first time Obama's jaws have caused controversy. At a D-Day World War II ceremony over the summer in Normandy, the French shouted 'sacre bleu' as the US president chewed on a stick of gum.
Obama is chewing gum again in China.... offending them... and showing how little he knows about diplomacy.

— Dagwood Bumstead (@Daggy1) November 12, 2014
Follow the Red Carpet Road
All the sheep in New Zealand would not have been able to produce enough wool to match the digital carpet used for the world leaders as they attended the summit dinner in the Chinese capital, Beijing.
Out with a bang!
Given that they invented fireworks back in the seventh century, the Chinese certainly know how to put on a good show. Six years ago at the 'Bird's Nest' stadium, Beijing put on one of the greatest-ever fireworks shows for the 2008 Olympic Games. The APEC summit showed China could still pull out all the stops, producing a stunning display again - this time with 'eco-friendly' fireworks, leaving those with a ring-side seat speechless.