'Nothing but bushes': Australian PM compares nation to moon prior to British colonization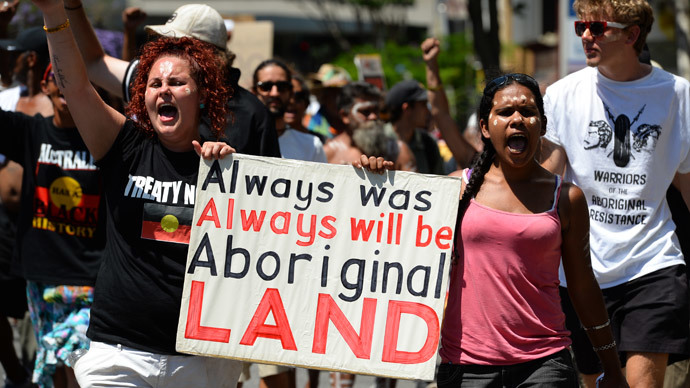 Australian Prime Minister Tony Abbott has caused an explosion of anger online after stating that before colonization in 1788, the country was "nothing except the bushes" – apparently forgetting about the country's indigenous peoples.
"As we look around this glorious city, as we see the extraordinary development, it's hard to think that back in 1788 it was nothing but bush and that marines and convicts and sailors…must have thought they'd come almost to the Moon," he said at a breakfast meeting with British Prime Minister David Cameron in Sydney.
"Everything would have seemed so extraordinarily basic and raw," he said.
On Friday, Aboriginal G20 protesters collected together to protest Aboriginal fatalities in police custody.
One protestor told Buzzfeed: "He's kidding right, doesn't he realize how much that offends us?"
"Abbott's attitudes are the kind of crap that lead to the situation we've got at the moment. You've just seen why we are here today," another said.
Social media expressed disbelief at his apparent ability to forget the country's aboriginal history. "Wow just wow," one Twitter user wrote.
"Tony Abbott's 'nothing but bush' comments appear illustrative of the value he places both on Indigenous rights & on the environment," another wrote.
"Our Prime Minister just wrote rewrote Australian history," said a third.
This is not the first time that Abbott has made such comments. In August, while launching a project on the 100 Defining Moments in Australian History at the National Museum of Australia, Abbott stated that "the arrival of the First Fleet was the defining moment in the history of this continent."
"It was the moment this continent became part of the modern world," Abbott said.
In response to Abbott's comment, the chair of the PM's advisory panel, Warren Mundine, said at the time: "It was also a disastrous defining moment for Indigenous people."
Since 1788, there has been a severe population decline. The forcible removal of Aboriginal children from their parents at various points has since led to the coining of the term "Stolen Generations."
The fate of the Aboriginal population in Australia has prompted scholars such as Dirk Moses to explore the topic within the framework of genocide studies.