G20 climate change protesters bury their heads in the sand (PHOTOS)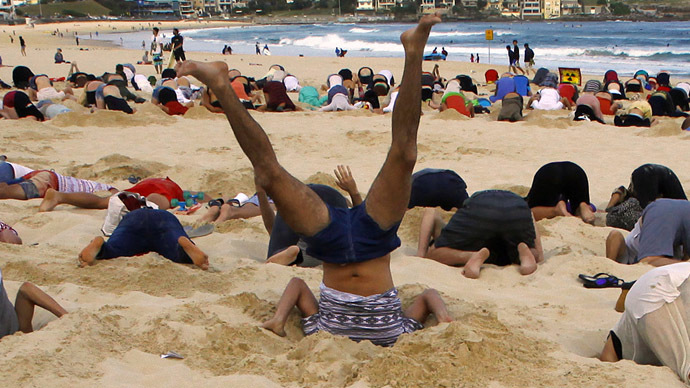 Hundreds of protesters buried their heads in the sand of Australia's most famous beach in a climate change demonstration. They wanted to send a message to Aussie PM Tony Abbott and G20 leaders ahead of the 2014 summit.
About 400 people gathered Bondi Beach, a popular beach near Sydney, for the event dubbed Bondi Salutes G20, aiming to raise questions about climate change.
They dug holes in the sand, plunged their bodies in head first and stayed there for several minutes. Some of them even managed to perform handstands with their heads in the sand.
TONIGHT! Send a salute to Tony Abbott re his #climate change policies b4 #G20: Bondi 5:15 pm https://t.co/Td3sf1YCyipic.twitter.com/YWWEJqka79

— 350Australia (@350Australia) November 13, 2014
"You have your head in the sand on climate change," said the organizers from 350.org Australia group, addressing Prime Minister Tony Abbott.
The protesters said they were mocking the Australian government's reluctance to put the issue of climate change on the agenda of the G20 summit, which is scheduled for November 15-16 in Brisbane, the capital city of Queensland, Australia.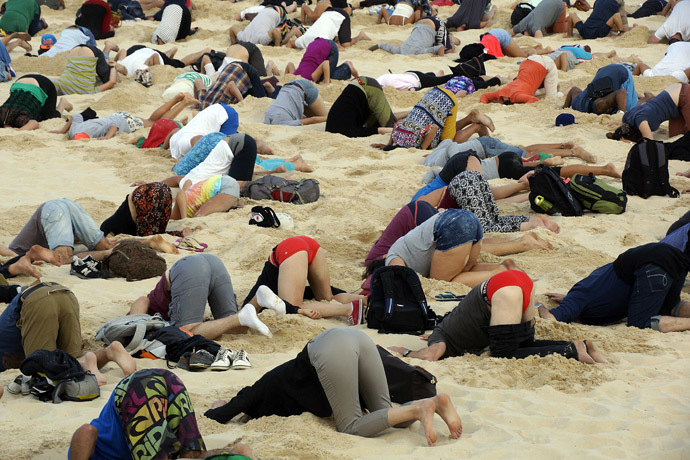 "Obama's on board, Xi Jinping's on board, everyone's on board except one man," activist Pat Norman, 28, bellowed into a megaphone on the Sydney beach.
With world leaders arriving for the G20 Summit in Brisbane, Eden Tehan said, "We want to tell world leaders coming for the G20 that Tony Abbott does not represent the view of most Australians who want to see urgent and global action on climate change, and for Australia to contribute a meaningful share towards reducing global emissions."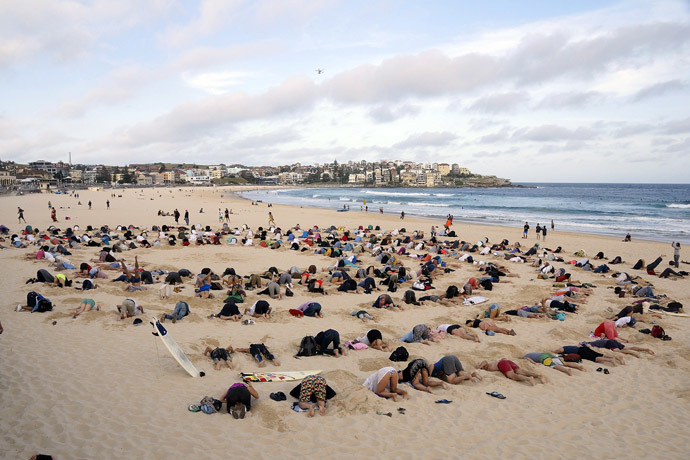 In July, the Australian Senate voted to scrap the controversial two-year old carbon emission tax, signaling a major victory for Abbott. Australia became the only country to reverse action on climate change.
Carbon emission has seen a long-running debate among politicians. The Liberals claim it penalizes business, while the Labor Party says it helps combat climate change.
Australia, the world's 12th-largest economy, has one of the highest per capita fossil fuel emissions among industrialized nations.
Bondi #headsinsandsalute#G20#ProtectGloucester Climate change is real Tony!Braids for Conservation @Beardson_compic.twitter.com/pNC0EZI5Er

— Aether Jones (@TessaSickKent) November 13, 2014
Over 400 protest #climatechange burying their head in the sand at #Bondi #headsinsandsalute@smh@photosSMH#Sydneypic.twitter.com/ZGfrsvZQME

— Dallas Kilponen (@thinkshootprod) November 13, 2014
Hey Tony here's Aussies @Bondi think of your #climate change policy (or lack of!!) - get out of the way at @G20! pic.twitter.com/9YOA2WJCUX

— 350Australia (@350Australia) November 13, 2014
About to go off at Bondi - "Come on Tony" on #climate! Watch this Twitter space@ pic.twitter.com/J3rVV5wpUk

— 350Australia (@350Australia) November 13, 2014
The best way to protest against Tony Abbott and force him to take action on climate change. #morningbondi #bondi #headsinthesandsalute #g20

A photo posted by Amaury Treguer (@morningbondi) on Nov 11, 2014 at 11:20pm PST
You can share this story on social media: