French FM urges anti-ISIS coalition to 'save' Syria's Aleppo from Assad, jihadists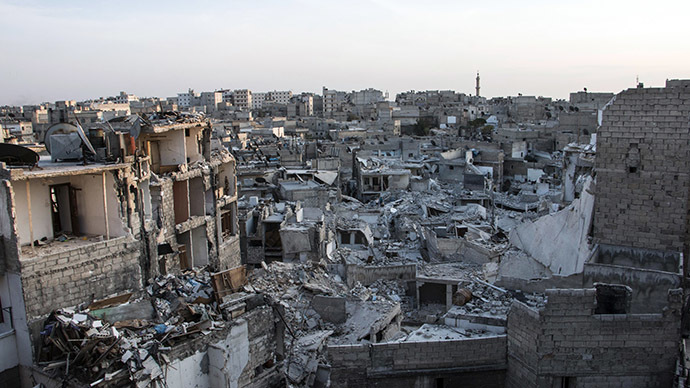 The next target after Kobani for the anti-ISIS efforts should be Aleppo, the stronghold of Syria's moderate opposition, France's FM Laurent Fabius writes. In his view, the city is under threat from ISIS jihadists defeated in Iraq and Assad's troops.
Laurent Fabius' column published simultaneously in The Washington Post, Le Figaro and pan-Arab media outlet Al-Hayat maintains that if Aleppo falls, the last hope for political solution of the Syrian crisis will be lost indefinitely.
"It would condemn Syria to years of violence. It would be the death of any political perspective and would see the fragmentation of the country run by increasingly radicalized warlords. It would also export the internal chaos of Syria towards already fragile neighbors Iraq, Lebanon and Jordan," Fabius wrote.
Aleppo was won by the Syrian opposition in 2012 and ever since has remained a major battleground for the Free Syrian Army fighters and governmental troops loyal to President Bashar Assad.
Read more:32 civilians killed over month in US-led anti-ISIS airstrikes in Syria – monitor
Read more:'Even animals don't do it': Kobani siege survivors on ISIS brutality
Read more:West-sponsored Syrian rebels condemn airstrikes against Islamic State
The city, which used to have a population of nearly 3 million, is practically encircled by Assad troops, yet a road leading to Turkey remains operable and about one million citizens of Aleppo have already used it to leave for Turkey as refugees. Many more Aleppo citizens have moved to other parts of Syria.
Still, among the ruins of what used to be one of the most prosperous cities of the Middle East, about 10 percent of the city's population continues living in anticipation of the end of the war.
"Abandoning Aleppo would condemn 300,000 men, women and children to a terrible choice: the murderous siege of the regime's bombs or the barbarity of the Islamic State terrorists," said Fabius.
The diplomat accused President Assad of "largely creating" Daesh (one of the names of the Islamic State) "by deliberately setting free the jihadists who fueled this terrorist movement" and put an equality mark between the Syrian government troops and jihadist guns, saying that they are "two sides of the same barbaric coin," because according to Fabius Damascus is not fighting Islamists.
"For these two faces of barbarism share a common aim: to destroy the moderate opposition," claims Fabius, as "both the regime and Daesh reject… democratic Syria".
"France cannot resign itself to the breakup of Syria or to the abandonment of the Aleppans to this fate," the column read.
The French FM failed to specify in which way exactly Paris is going to save Aleppo, but he made it clear that his appeal is directed mainly to members of the US-led anti-Islamic State coalition, who have certain military means in the region currently directed deployed against the IS jihadists nesting in Iraq and Syria, with the latter being bombed solely by the US Air Force.
For Damascus, interference of the American war machine in the Syrian civil war became a signal to intensify operations against rebel groups, many of which are sponsored from abroad and being regarded by Washington as natural allies against the Assad regime. Since Aleppo has been the Assad army's main goal throughout the conflict, intensifying anti-rebel operations around Aleppo has left them on the verge of catastrophe.
"That's why, with our coalition partners, we must turn our efforts to Aleppo ... to strengthen the moderate opposition and protect the civilian population against the twin crimes of the regime and Islamic State. After Kobani (Kurdish city that managed to battle Islamists off), we must save Aleppo," the French FM wrote in his column.
Ever since France joined the anti-IS coalition and started to bomb IS positions in Iraq in mid-September, Paris made it clear its troops are not going to take part in any ground operations. French arms and instructors have been given to Kurdish Peshmerga self-defense units battling jihadists, but that has been the most Paris was ready to do.
The position of Paris must have undergone changes after the visit of Turkish President Tayyip Erdogan, who met his French counterpart President Francois Hollande three days ago, according to Al Arabiya. Erdogan, who has never hid his support for the Syrian opposition, reportedly voiced an idea to eliminate both Turkey's enemies, Assad and the Islamic State, in one joint operation.
Turkey would also most welcome introduction of a no-fly buffer zone in Syria, similar to the one that opened gate to eliminating regime of Libya's strongman Colonel Muammar Gaddafi, that in turn led to current chaotic state of the fragmentized Libyan state. But Paris insisted that such actions could only be introduced with a UN Security Council resolution.