West-sponsored Syrian rebels condemn airstrikes against Islamic State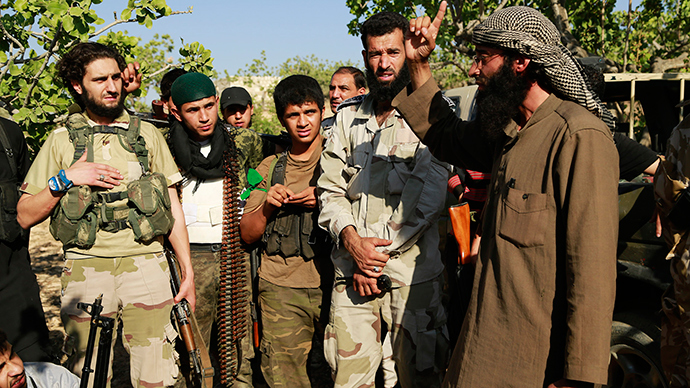 The West-backed Harakat Hazm rebel group in Syria has denounced airstrikes conducted against the militants of the Islamic State by a US-led coalition.
The group of an estimated 7,000 fighters, which has reportedly received weapons from the United States, lashed out at the anti-IS coalition - consisting of the US, Jordan, Saudi Arabia, Bahrain, Qatar and the United Arab Emirates - for launching an offensive against the Islamic State (IS, formerly ISIS/ISIL) on Syrian territory, AFP reported.
"The sole beneficiary of this foreign interference in Syria is the [President Bashar] Assad regime, especially in the absence of any real strategy to topple him," the group tweeted, describing the strikes as "an attack on national sovereignty that undermines the Syrian revolution."
The statement came as the US and allies were in process of preparing for a new wave of airstrikes against the IS and an Al-Qaeda-linked group in Iraq and Syria.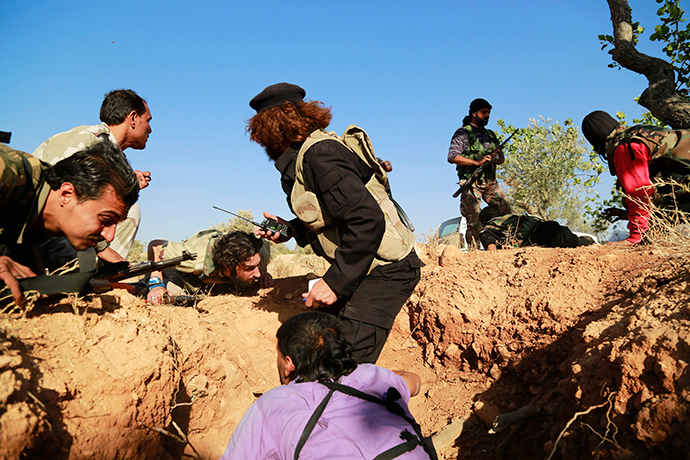 After two nights of strikes by F-16 and F-18 fighter jets, Rockwell B-1 strategic bombers, MQ-1 Predator drones and Tomahawk long-range cruise missiles.
Harakat Hazm claimed that US airstrikes hit targets in Aleppo, Deir Ezzor, al-Hasakah, Homs, Idlib and Raqqa, reportedly killing 120 militants of the Islamic State and Al-Nusra Front. Though in a press briefing Wednesday, the Pentagon said it was not aware of any civilian casualties, the rebels reported deaths of 11 civilians in Idlib and five in Homs, three of them children.
Harakat Hazm group not only reportedly received 20 TOW anti-tank missiles back in April from a "Western source," rebel officials told AFP, but was actually mentioned by US Secretary of State John Kerry last week as a possible consignee of the American arms and combat instructors within the nearest months. It has been supposed that the group will get supplies specifically to fight against IS jihadists.
The rebel group has demanded more Western support, in the first place anti-aircraft missiles needed, it says, to level the playing field with the Assad regime.
Last week the US Congress passed legislation allocating more money to train and equip the moderate Syrian rebels as part of the $500 million President Obama requested in May.
In the meantime, on Tuesday Syria's key opposition political group, the National Coalition, welcomed the airstrikes, but also asked the international community not to give up pressure on Assad.
Since the beginning of the Syrian conflict in March 2011, over than 180,000 people have been killed.
You can share this story on social media: