French Muslims back Middle East Christians against ISIS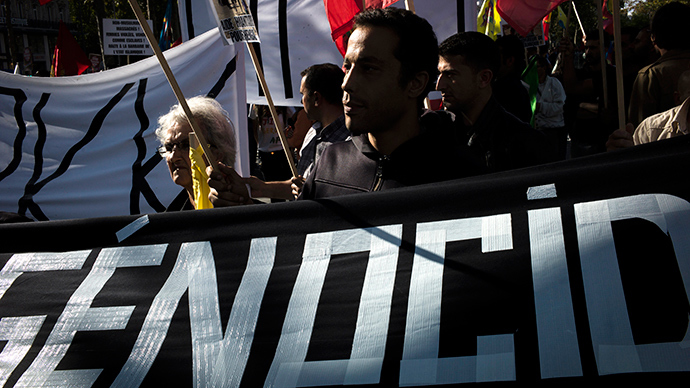 The Muslim Council of France (CFCM) in a joint statement with a Christian group denounced the persecution of Middle East Christians by the Islamic State in Iraq and Syria and said mosques across France would pray for them this week.
Although several French Muslim groups have already condemned the atrocities of the Islamic State (IS) jihadi militants who have declared a medieval-style caliphate in Iraq and Syria, this is the first time that French Muslims have teamed up with Christians to support the victims of IS.
In a joint statement, the CFCM said "barbarians are perpetrating crimes against humanity exploiting Islam as their banner."
"The signatories reaffirm their support to their Middle Eastern Christian brothers, many of them Arabs, as well as for all other minorities in the region who are now victims of a destructive campaign by these terrorist groups that threaten their existence," the statement read, as cited by Reuters.
Islamic State jihadists persecuted and drove Christians out of Iraq's northern city of Mosul in July, which ended their presence in the town stretching back to the early years of Christianity.
They also drove out the neighboring Yazidi community, as well as executing many Yazidi men and forcing women and children into slavery. Other Muslims are not immune; Shiites have also been targeted in large numbers.
"The issue of Middle East Christians is not only one for Christians. French Muslims are with us to support them," said Patrick Karam, head of the Endangered Middle East Christians Group, which helped to draw up the statement with the Muslim Council.
A number of French Muslim groups have already condemned the Islamic State but because of the decentralized nature of Islam, individual declarations carry less meaning than a collective one.
Anouar Kbibech, head of an association of Moroccan mosques in France, said that young Muslims should understand that the Islamic State is carrying out ethnic cleansing and they "must not be deceived."
Dalil Boubakeur, rector of the Grand Mosque of Paris and President of Muslim Council of France, said that Muslim organizations in the UK and US, as well as the grand mufti of Saudi Arabia, had issued clear statements condemning the Islamic State. He also warned that if the Islamic militants succeeded in driving out Christians from the Middle East, then this could endanger relations among religions elsewhere and that "Muslims in Europe would be suspect."
Boubakeur and Karam, who spoke at the declaration, emphasized that Muslim organizations should explain to young Muslims that Islam does not condone killing, ethnic cleaning and torture.
Christian leaders, including Pope Francis in Rome, have called on Muslims to do more to speak out against Islamic State. Several French based clergy from eastern Christian churches who attended the meeting thanked the Muslim groups for their support.
"This is something that had to be done," said Abba Athanasios, a Coptic Orthodox bishop.
French Interior Minister Bernard Cazeneuve indicated to Karam last week that there were about 800 French citizens who could be working as "candidates on the ground" with IS militants.
A total of 360 are already actively participating, 220 were preparing to fight, while another 180 were "in transit in Turkey," Reuters reported the minister as saying.
Another 150 had made it back to France, he said. "Of the 150 who have returned, they are all over France. We can expect a wave of terror attacks in France," Cazeneuve said.
You can share this story on social media: