15% of French people back ISIS militants, poll finds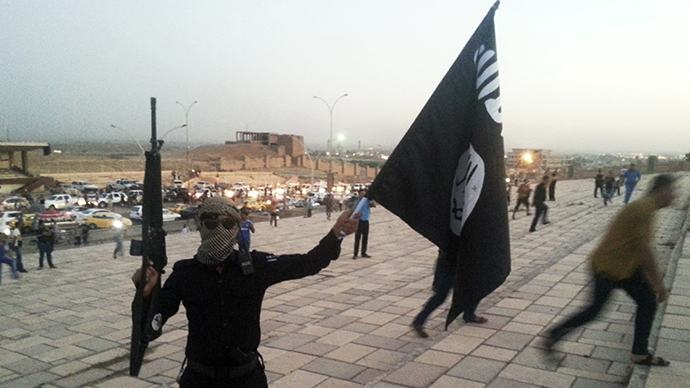 Up to 15 percent of French people said they have a positive attitude toward the Islamic State, formerly known as the Islamic State of Iraq and the Levant. The share of ISIS supporters is largest among France's younger generation, a new poll says.
Twice as many French people expressed a positive reaction to Islamic State (IS) militants than in Britain, where the number of people favorably disposed to the IS stands at 7 percent, and Germany, where a meager 2 percent of the respondents sided with the IS, according to a poll carried out in July among 1,000 people aged over 15 years (over 18 in Britain) in each country. The poll was conducted by ICM Research for the Russian news agency Rossiya Segodnya.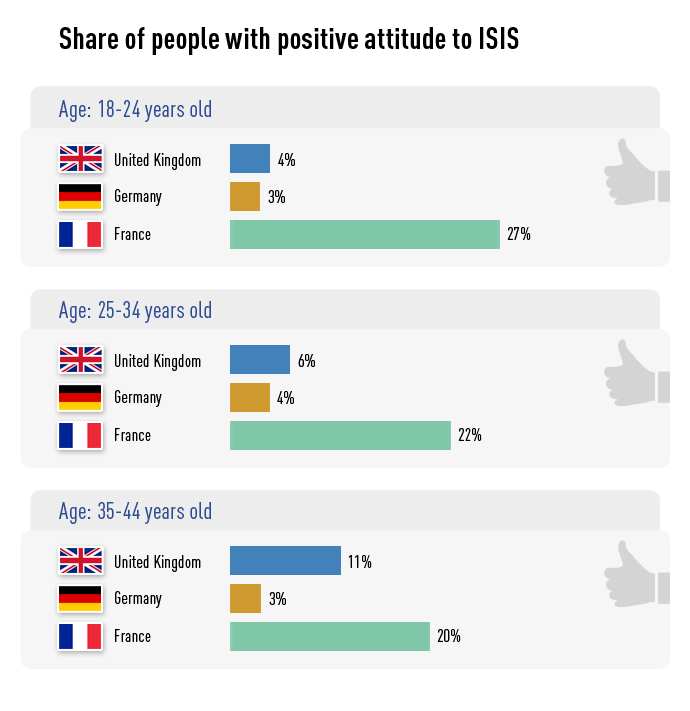 The Islamic State is a jihadist group, widely regarded as a terrorist organization and designated as such by the US, the UK, Saudi Arabia and several other countries.
It aspires to bring much of the Muslim-inhabited regions of the world under its direct political control, beginning with territory in the Levant region, which includes Jordan, Israel, Palestine, Lebanon, Cyprus, and southern Turkey. In the past few months, IS militants have seized a number of towns in Iraq and Syria.
In France, the share of IS supporters is the largest among people aged between 18 and 24, and it is the smallest among those aged over 45. The largest share of IS opponents is composed of people aged 45 to 54.
"This is not a result of sympathy of a significant number of French people for this extremist terrorist organization," Yury Rubinsky, the head of the Center of French Studies of the Russian Academy of Sciences, told Rossiya Segodnya. "This is simply a manifestation of the country's accumulated potential rejection of the existing system as a whole. This is a form of rejection of the elites, a form of protest."
The French government said in late July it was ready to welcome Christians fleeing the area of Iraq controlled by IS fighters, saying it was "outraged" by their persecution.
"France is outraged by these abuses, which it condemns with the utmost firmness," Laurent Fabius, France's foreign minister, and Bernard Cazeneuve, the interior minister, said in a joint statement. "We are providing aid to displaced people fleeing from the threats of Islamic state and who have sought refuge in Kurdistan."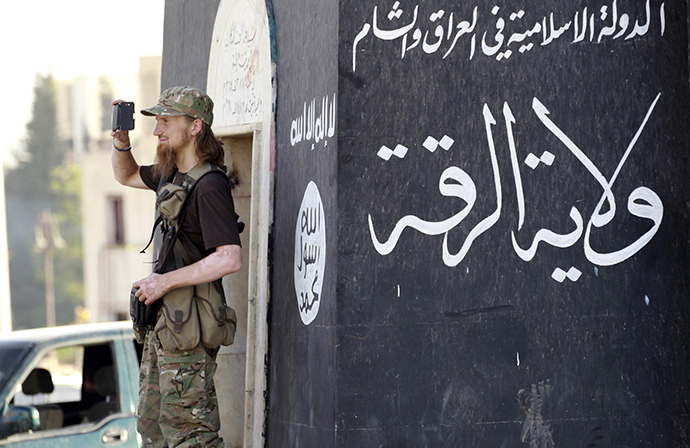 In Britain, the only two-digit number of IS supporters – 11 percent – is to be found among people aged between 35 and 44, and in Germany among young people of 16 and 17 years old – 10 percent, the same poll found. No Germans between 55 and 64 years old back the IS and an overwhelming majority of German people in this age group denounce it. In Britain, the largest number of IS opponents – 70 percent – is to be found among seniors over 65.
Among the three countries, France, whose population numbers 68 million people, has the largest Muslim community (7.5 percent), whereas the UK's Muslim population is 5 percent and that of Germany is 4.6 percent, according to a Pew Research study published in January 2011.
Earlier this year the British press cited Birmingham MP Khalid Mahmood as saying that at least 1,500 British nationals are likely to have been recruited by IS extremists to fight in Iraq and Syria. Then-Foreign Secretary William Hague earlier this year claimed that around 400 young British nationals have gone to the Middle East to join the fighting.
Through the same ICM research poll, respondents were asked which of the statements is closer to their viewpoint, that instability in Iraq is a result of the military intervention in that country, or that it is a result of Iraq's political development. Around one-third named the military intervention as the main factor of instability, while 41 percent of French, 47 percent of British and 59 percent of German people said it was a result of national politics.
The largest percentage of those blaming the instability in Iraq on the military intervention is to be found among French people aged between 18 and 24, and the smallest percentage among Germany's youngest generation. The other variant, that instability stems from national politics, was least popular among French people aged 18 to 24, where 25 percent of the respondents chose it, and most popular with Germany's teens, of whom 66 percent chose that option.
You can share this story on social media: