Not kosher: Supermarket removes Jewish food amid anti-Israel protests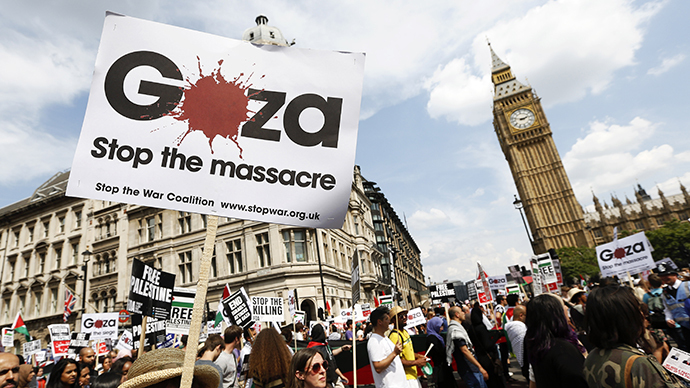 A central London branch of a major UK supermarket emptied its kosher food shelf after its manager feared anti-Israeli protesters outside would attack the store, the grocery giant has confirmed.
Meats, cheeses and sauces were removed and placed into cool storage at a Sainsbury's Local branch in Holborn as it was picketed by demonstrators calling on the grocer to boycott Israeli goods.
There followed uproar on social media as opponents of the move said many of the removed items were not actually from Israel. They also pointed out the distinction between Israeli exports and kosher dietary goods.
GIVES IN TO FEAR: UK supermarket, Sainsbury, REMOVES kosher food, fearing protesters http://t.co/6dGomqTCWv#tcotpic.twitter.com/17w3pejwU5

— slone (@slone) August 18, 2014
Despite the Sainsbury family's Jewish ancestry, the supermarket was accused of anti-Semitism for its actions. Sainsbury's insisted the decision was taken to protect the food from damage. However, one opponent made a formal complaint against the grocer.
Gavin Platman wrote to Sainsbury's: "I presume you are aware that kosher food is produced in countries other than Israel? You are therefore not making a political statement against Israel, but instead are targeting a group based on race - i.e. Jews.
Before going berserk when ONE branch of Sainsburys removes Kosher food, please consider that in #Gaza there is not much food at all 1/2

— Mira Bar-Hillel (@mirabarhillel) August 17, 2014
"As a Jew I find this deeply offensive. Naturally I am against the death of innocent children in Gaza, so why are you persecuting me by denying me the right to buy kosher food?
"I presume you are also removing Halal food in protest against the Islamic State slaughtering Yazidis. Clearly not – therefore you have blurred the line between political statement and hate crime," he wrote.
This is the explanation @sainsburys are tweeting re moving kosher food in Holborn store as "precautionary measure" pic.twitter.com/qLKODWj4jp

— Jess Brammar (@jessbrammar) August 17, 2014
A spokesman for Sainsbury's told the MailOnline, "It was the manager's decision there and then - not company policy at all. We are a non-political organization and we're not coming down on either side of the argument.
"We have had similar demonstrations at stores where people have gone in and removed goods, though no great damage was done. A decision was taken by a store manager faced with a challenging situation outside the store."
Disorder inside Tesco in Hodge Hill following a protest against the war in Palestine. http://t.co/NCHcZHZQcPpic.twitter.com/DR6BUNSaP8

— Birmingham Updates (@BhamUpdates) August 16, 2014
Boycotts of Israeli goods, though not kosher goods, have long been a demand of the pro-Palestine movement, intended to send a message to Israel over its blockade of Gaza. The Holborn incident occurred the same day activists stormed a Birmingham branch of rival supermarket chain Tesco.
Tesco sells fresh produce and branded goods from Israel. A spokesman said, "We do this in line with the government position on trade with Israel, and we mark all products clearly with the country of origin, so customers can make informed choices about what to buy."
The Israeli state's assault on Gaza has provoked a wave of anti-Semitism across Europe in the wake of massive protests. The Institute for Jewish Policy Research reports that up to 80 percent of British Jews say non-Jews blame them for the Israeli government's actions.
It found the experience of anti-Semitism is often bound up with perceptions of the political and military decisions of the Israeli government.
During an interview on BBC Radio 4's Today program, Chief Rabbi Ephraim Mirvis said that while criticizing Israeli policy did not constitute anti-Semitism, it did "create a context within which anti-Semitism can thrive."
He said that evidence suggested that many Jewish people had begun to "consider their future in the UK" in recent weeks because of the upsurge in incidents.
However, Gaza solidarity protests in London have included a visible Jewish presence, with those in attendance calling for a marked distinction to be made between the actions of the Israeli state and the Jewish people as a whole.
You can share this story on social media: