Furious students burn Mexican govt. building in protest over police corruption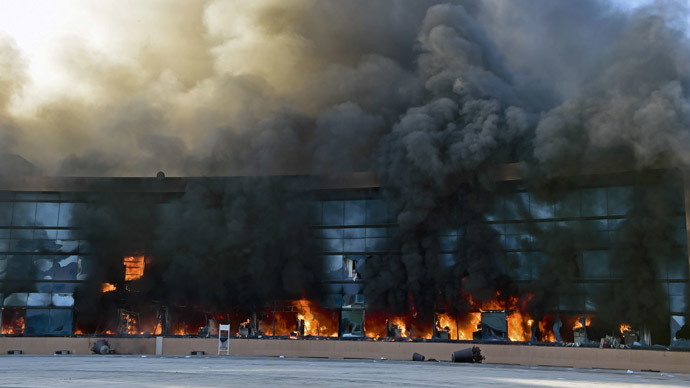 Hundreds of residents in a southern-Mexican city smashed up the state capital building in a furious protest over the continued lack of information about 43 local college students, believed to have been abducted by corrupt police.
The local police are allegedly working with a powerful drug cartel and it's feared that 10 newly discovered mass graves may contain the bodies of the students taken on September 26. "Up to 20" charred remains were discovered on Saturday.
As an investigation is underway, 26 police officers have so far been arrested, a number of which admitted to working with the Guerreros Unidos – an infamous drug cartel. Arrest warrants have also been issued for the mayor of Iguala, Jose Luis Albarca, his wife and his security chief, but they have gone into hiding.
The building in Chilpancingo, the capital of Guerrero state, was seen from a distance, engulfed in flames.
According to local authorities, the crowds included hundreds of students and teachers from the Ayotzinapa teachers' college, who blockaded the building and used sticks, rocks and Molotov cocktails to attack it.
They initially tried to get into the state congress, but police in riot gear repelled the crowd.
This comes more than two weeks after a serious incident in Iguala, also in Guerrero state, involving the shooting of six students by police during a rally in support of rural teachers' rights. The law enforcers opened fire on a bus carrying protesters and arrested dozens of students, who have not been seen since.
The situation touches on a problem that's been plaguing Mexico for a long time – police corruption and rampant organized crime by ruthless cartels.
Monday's events come after a case of mistaken identity, during which the police shot and wounded German student Kim Fritz Keiser of the Monterey Institute of Technology, according to state authorities.
Keiser was travelling with her other foreign classmates in a van from Acapulco, which passes through Chilpancingo. At the time, the police were involved in another, unrelated confrontation with kidnappers, and erroneously assumed the people in the van had some sort of connection with the kidnapping. The state prosecutor's office told AP that, as the officers tried to pull the van over, some crackling sound resembling a gunshot was heard from inside the vehicle. The police shot back, wounding the student.
Fearing that it was a case of armed men kidnapping students, the driver of the van refused to stop and drove away from the scene.
The officers involved in the incident have been detained and their weapons are being examined, authorities say.
Warnings have been issued by US authorities in the past to avoid the northwestern part of the state of Guerrero, because of frequent violence occurring in places like Iguala.
You can share this story on social media: