The Kim is Back: North Korean leader makes first public appearance in a month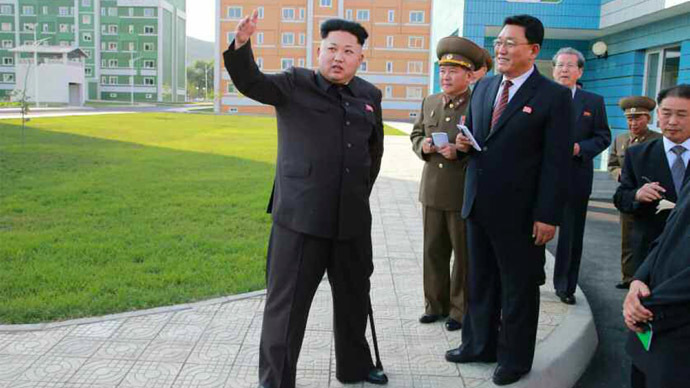 Kim Jong-un made his first public appearance since September 3. His absence for over a month produced numerous speculations over his health and conflicts among North Korea ruling establishment.
Latest photos of Kim published by the country's official media show him with a walking stick. He can be seen surrounded by North Korean officials and smiling in images captured off of state television, according to Reuters. Still, there was one notable change: the mysterious leader is also shown using a cane to support himself and walk during his highly publicized tour.

News and photos of Kim's appearance tampered speculation – for now, at least – that the North Korean leader had been gravely ill, pushed into hiding due to battling factions, or deposed and replaced with another leader entirely.
Front page of Tuesday's Rodong Sinmun with photos of smiling Kim Jong Un walking with cane. #DPRK#VOAalertpic.twitter.com/C6vA4kDoGC

— Steve Herman (@W7VOA) October 13, 2014
Since Kim had previously gone on numerous tours to various facilities, the fact that he simply stopped making public appearances in early September sparked speculation all over the world over his whereabouts.

In early October, Vice News ran a story in which former senior North Korean official Jang Jin-sung – who served under previous dictator Kim Jong-il – said the country is actually experiencing a civil war between factions that want to continue exerting complete control of the economy and those who want to open it up, however slightly.

"On one hand, it's people who want to maintain a regime monopoly," Jang said. "On the other hand, it's not like people are fighting against the regime, but in a policy sense they want to take advantage to get influence. It's not actually consciously civil war, but there are these two incompatible forces at play."

In another story, it was suggested that Kim's sister, Kim Yo-jong, had actually replaced her brother as the country's top leader and has avoided the spotlight.

"As a woman in a very male-dominated society, the theory goes, she might be reluctant to push herself forward publicly straight away, preferring instead to bide her time while governing from behind the scenes," John Everard, a former UK ambassador to North Korea, said to the Guardian just last week.
I've cropped one of the Rodong Sinmun photos to show close-up of Kim Jong Un walking with a cane. #DPRKpic.twitter.com/IeMwZV2DUL

— Steve Herman (@W7VOA) October 13, 2014

Meanwhile, other reports have sidestepped the possibility of a coup and focused on health. Various outlets have suggested that Kim is suffering from diabetes, heart problems, and, among other things, gout. Even Saturday Night Live got involved in the speculation suggesting that Kim broke his ankle "while dunking over Michael Jordan."

After Kim missed an important celebration earlier this month, an anonymous source told Reuters that the leader had actually injured his leg while participating in a military drill.

"He injured his ankle and knee around late August or early September while drilling because he is overweight. He limped around in the beginning but the injury worsened," the source said. "He ordered all the generals to take part in drills and he took part too. They were crawling and running and rolling around, and he pulled a tendon."