​'Slanderous farce': N. Korea goes ballistic over UK TV nuclear drama, threatens to cut diplomatic ties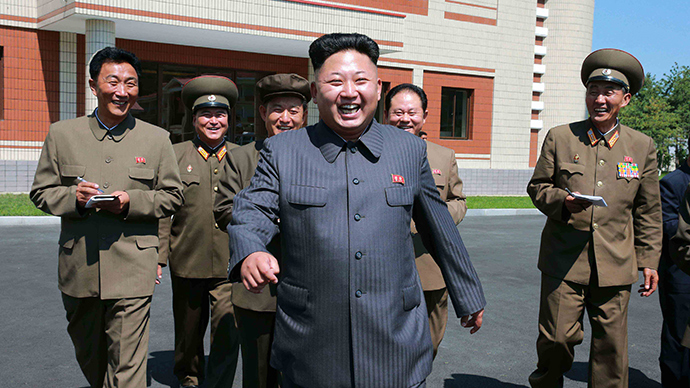 North Korea has slammed a new British TV drama thriller revolving around its nuclear weapons program, urging the UK government to scrap the "slanderous farce" if it wants to maintain diplomatic ties.
A spokesman for the powerful National Defence Commission in Pyongyang described the upcoming Channel 4 TV series as a "slanderous farce" and a "conspiratorial charade."
Opposite Number – a 10-part drama series commissioned by Channel 4 – features a British nuclear scientist captured in North Korea during a covert mission and forced to assist the country with its nuclear weapons program.
The series will take viewers inside the "closed worlds of North Korea" with "opposing CIA and MI6 agents secretly deployed on the ground in Pyongyang, as the clock ticks on a global-scale nuclear crisis," Channel 4 said.
The KCNA news agency quoted the Defence Commission's spokesman as saying: "This mud-slinging is a premeditated politically-motivated provocation and deliberate hostile act to hurt the dignity of the supreme leadership and tarnish the sovereign authority of the DPRK and its international image."
"Those who are talking about 'illegal acquisition of nuclear technology' are no more than blind fools and idiots bereft of even elementary ability to discern the truth," the spokesman said.
North Korea warned that Britain should "throw reactionary movies now being planned or in the process of production into a dumping ground without delay and punish the chief culprits." Only this would "preserve the hard-won diplomatic relations between the DPRK and Britain." The UK has an embassy in Pyongyang.
The statement added that Pyongyang would not need to steal foreign nuclear technology, as the country's atomic capability is already "so powerful and tremendous that no one can imagine."
#KCNA: British Plan for Producing Anti-DPRK Movie under Fire http://t.co/AMWfrfz1eu#NorthKorea

— KCNA Watch (@KCNAWatch) August 31, 2014
The nuclear-armed state has staged three atomic tests, most recently in 2013, and has often threatened nuclear strikes against major foes Seoul and Washington.
North Korea said that "reckless anti-DPRK hysteria would only bring disgrace and self-destruction," adding Britain would be "well-advised to judge itself what consequences would be entailed if it ignores the DPRK's warning."
The British government, however, appeared unfazed by Pyongyang's threats. A spokesperson for the Foreign and Commonwealth Office said, "It is for Channel 4 to decide upon its programming schedule. British media is editorially independent of the British government, and as such we would not be involved in the development or production of programs."
North Korea always protests against foreign movies mocking its system or leadership, especially the Kim dynasty that has ruled the country for six decades with a ubiquitous personality cult.
In June, North Korea denounced an upcoming Hollywood film about two TV reporters who land an interview with the North Korean leader Kim Jong-un in Pyongyang and are then tasked with killing him. North Korea called the film, "The Interview," a "wanton act of terror" and warned of a "merciless response" unless the US government banned the film.
The regime in Pyongyang even went as far as writing a letter to President Barack Obama demanding that he intervene.
In this case, Pyongyang accused Britain of having an "inborn disposition of blindly copying the American-style diplomacy," saying that Hollywood's decision to mock North Korea inspired the Brits' new show.
Earlier this year, the publicly-funded BBC apologized to students at the London School of Economics on a tour group to North Korea after it used a student trip as cover to gain access to the secretive communist state to shoot a documentary last year.
You can share this story on social media: