Assange accuses Australian govt of 'misrepresenting nature of interception'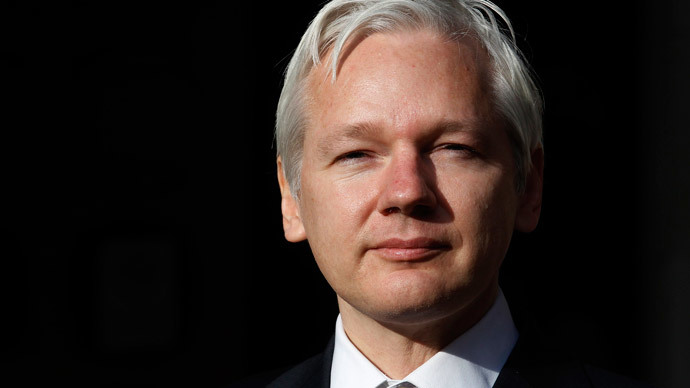 WikiLeaks founder Julian Assange has challenged assurances by the Australian government that communications interception in the country was a matter of "strict oversight."
Assange sneaks into US conference... as full-body 3D hologram! (VIDEO)
He has dismissed as "absurd" Australian government agencies' stance on mass collection of metadata in a submission into a surveillance inquiry by the Australian Senate's Legal and Constitutional Affairs Committee, the Age reported.
"It is absurd that Australian government agencies continue to misrepresent the nature of interception and their access to intercepted data via Five Eyes sharing arrangements," Assange wrote.

The whistleblower particularly questioned the assurances given by Australia's surveillance watchdog, the Inspector-General of Intelligence and Security (IGIS), that it has found nothing unlawful about data harvesting in Australia.

"I would say that the data sharing about Australian persons for ASD [Australian Signals Directorate – an intelligence agency] is regulated tightly by the Intelligence Services Act and the privacy rules made under that act and that data about Australian persons is subject to quite strict oversight," Jake Blight, IGIS's assistant inspector-general, said previously.
Assange makes surveillance inquiry submission http://t.co/Ro9jn2zs8E#auspol#NSA#snowden

— WikiLeaks (@wikileaks) October 9, 2014
Assange has called on the Senate committee to pay close attention to documents on the XKeyscore program, leaked by former NSA contractor Edward Snowden.

"This program includes a Five Eyes Defeat checkbox that allows analysts to filter out data from one or more of the Five Eyes countries," Assange wrote. "Such a check box makes sense only in the context of a default sharing of information among the 5 Eyes that inevitably and necessarily circumvents the TIA [Telecommunications (Interception and Access) Act]."

Assange criticized the amendments made to Australia's intelligence services legislation in 2011 as greatly reducing "the scope of or meaning of protections for Australians overseas" and greatly increasing "the surveillance of their communications permitted."

The Australian government has meanwhile come up with a series of amendments, which are supposed to upgrade the country's 1979 Intelligence Act in the face of the terrorist threat. Among anti-terrorist measures are those granting authorities broader access to citizens' communications.
Crackdown on freedoms? Australian Senate passes draconian anti-terror laws
The first package of the amendments, passed last week, allows one warrant to give the nation's spying agency, ASIO, access to a limitless number of computers on a computer network when attempting to monitor a target. Critics of the legislation argue that the vague wording of the document allows the entire internet to be monitored.

The same legislation could see journalists jailed for 10 years for reporting on special intelligence operations, something which has been seen by human rights watchdogs as an infringement on free speech.

The second package of amendments currently pending approval would allow Australia's federal police to secretly search a terrorism suspect's home without having to notify the subjects of the warrant for six months or more.

Those who disclose information on such searches could face up to two years in jail.

A coalition of Australian media companies asked for a provision that criminalizes such disclosures to be removed from the amendment, or at least for journalists to be exempt.

The media groups said in a submission published Wednesday and cited by The Guardian, that the section "would see journalists jailed for undertaking and discharging their legitimate role in our modern democratic society – reporting in the public interest."
You can share this story on social media: