Crackdown on freedoms? Australian Senate passes draconian anti-terror laws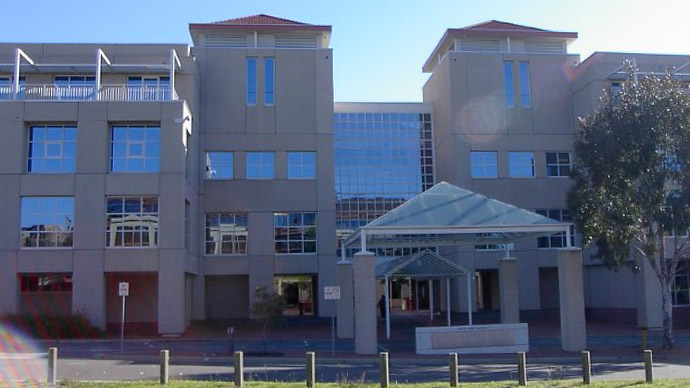 Australia's senate has endorsed new anti-terror laws that will grant its intelligence agency the right to spy on any citizen with just a warrant, while journalists and whistleblowers "recklessly" exposing special ops can face up to 10 years in jail.
The anti-terror laws, which cleared the Australian Senate on Thursday – and will almost certainly pass the House of Representatives on Tuesday – grants extraordinary powers to the nation's spying agency, ASIO, to effectively monitor the entire Australian internet.

The National Security Legislation Amendment Bill allows one warrant to give the ASIO access to a limitless number of computers on a computer network when attempting to monitor a target. It also allows for the content of communications to be stored – while ASIO agents will be allowed to copy, delete, or modify the data on any of the computers it has a warrant to spy on.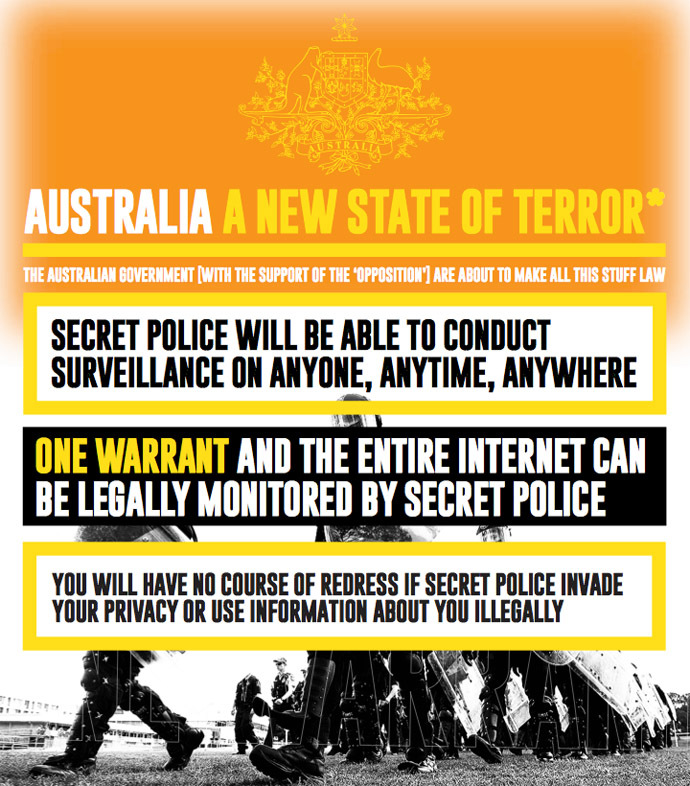 Critics of the law say it effectively allows the entire internet to be monitored as it is a 'network of networks' and the bill doesn't define a computer network.
Moreover, under the new law, anyone identifying ASIO agents or disclosing the information related to a special intelligence operation faces up to 10 years in jail. To be found guilty one would only need to be proven to be "reckless as to whether the disclosure of the information will endanger the health or safety of any person or prejudice the effective conduct of an SIO."
In addition, any operation can be declared "special" by an ASIO officer, and a person may never know which investigation he allegedly obstructed and being put on trial for – because it is a secret one.
The Australian Lawyers Alliance said the law could have a freezing effect on national security reporting, although Senator George Brandis and the government's Attorney General, said the laws didn't target journalists but instead went after people who leak classified information like the former US National Security Agency contractor Edward Snowden.
Australia's new laws are like the U.S's PATRIOT Act—minus a Bill of Rights https://t.co/5Co5xlTA17#surveillance#auspol

— Bean (@SomersetBean) September 26, 2014

The new laws were introduced to target government whistleblowers, and over growing concerns about the Islamic State jihadists who threatened to directly target Westerners including Australians.
"Regrettably, for some time to come, the delicate balance between freedom and security may have to shift," Prime Minister Tony Abbott saidin a statement on Monday.
Voting against the measure in the 44-12 vote was Australian Green party Senator Scott Ludlam who added an amendment limiting the number of computers to 20 to be searched at any one time, which failed to gain support.
"What we've seen [tonight] is I think a scary, disproportionate and unnecessary expansion of coercive surveillance powers that will not make anybody any safer but that affect freedoms that have been quite hard fought for and hard won over a period of decades," Senator Ludlam told Fairfax Media.
You can share this story on social media: