​Governments spy on journalists with weaponized malware – WikiLeaks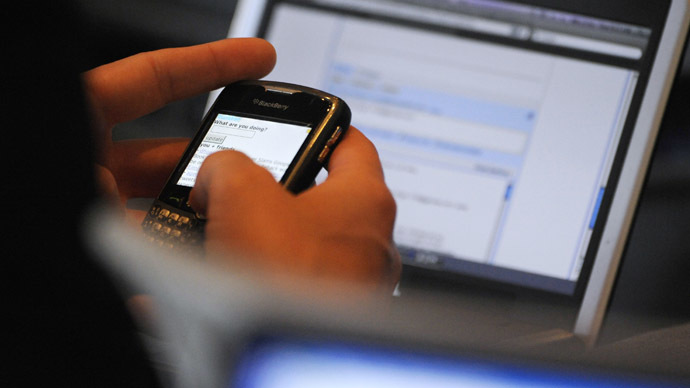 Journalists and dissidents are under the microscope of intelligence agencies, Wikileaks revealed in its fourth SpyFiles series. A German software company that produces computer intrusion systems has supplied many secret agencies worldwide.
The weaponized surveillance malware, popular among intelligence agencies for spying on "journalists, activists and political dissidents," is produced by FinFisher, a German company. Until late 2013, FinFisher used to be part of the UK-based Gamma Group International, revealed WikiLeaks in the latest published batch of secret documents.
FinFisher's spyware exploits and monitors systems remotely. It's capable of intercepting communications and data from OS X, Windows and Linux computers, as well as Android, iOS, BlackBerry, Symbian and Windows Mobile portable devices. Three back-end programs are required for the spy program to operate. FinFisher Relay and FinSpy Proxy programs are FinFisher suite components that route and manage intercepted traffic, redirecting it to the FinSpy Master collection program. The spyware can steal keystrokes, Skype conversations, and even connect to your webcam and watch you in real time.
The whistleblower has a list of FinFisher surveillance software buyers. Among the German malware developer's clients are intelligence agencies and police forces from Australia, Bosnia, Estonia, Hungary, Italy, Mongolia, the Netherlands, Pakistan and Qatar.
According to WikiLeaks' estimates, FinFisher has already earned about 50 million euros in sales.
"FinFisher continues to operate brazenly from Germany selling weaponized surveillance malware to some of the most abusive regimes in the world," the founder and editor-in-chief of Wikileaks, Julian Assange, said.
Earlier this year, the tapping of Chancellor Angela Merkel's mobile phone by the American National Security Agency (NSA) created a scandal that rocked the German political establishment: a revelation made thanks to documents exposed by the former NSA contractor and whistleblower Edward Snowden.
Yet, despite all this, FinFisher continues its activities in Germany unhindered.
"The Merkel government pretends to be concerned about privacy, but its actions speak otherwise. Why does the Merkel government continue to protect FinFisher?" Assange asked.
Assange is calling for an 'antidote' to the German-made FinFisher FinSpy PC spyware, saying a tool is needed to repel such activities and expose those who do the surveillance by tracking down spying command and control centers.
WikiLeaks has made newly indexed FinFisher breach material public via torrents, "including new brochures and a database of the customer support website, that provide updated details on their product line and a unique insight into the company's customer-base."
"In order to make the data more easily accessible and consumable, all the new brochures, videos and manuals are now available organized under the related FinFisher product name. The database is represented in full, from which WikiLeaks compiled a list of customers, their eventual attribution, all the associated support tickets and acquired licenses, along with the estimated costs calculated from FinFisher's price list," the WikiLeaks memo said.
After the scandal that followed revelations of mass NSA spying worldwide, Germany and France came up with an idea to build a trustworthy data protection network in Europe to avoid data passing through the US.
The US slammed such plans to construct an EU-centric communication system, designed to prevent emails and phone calls from being swept up by the NSA, warning that such a move is a violation of trade laws.
You can share this story on social media: