Germany, France to mastermind European data network - bypassing US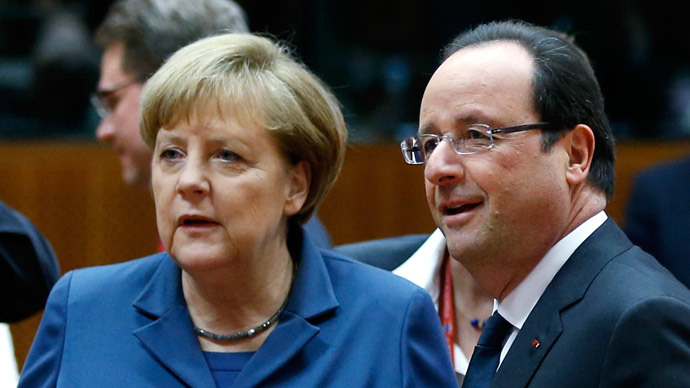 Angela Merkel and Francois Hollande will review plans to build up a trustworthy data protection network in Europe. The challenge is to avoid data passing through the US after revelations of mass NSA spying in Germany and France.
Merkel has been one of the biggest supporters of greater data protection in Europe since the revelations that the US tapped her phone emerged in a Der Spiegel news report in October, based on information leaked by former NSA contractor Edward Snowden.
Earlier, France learned from reports in Le Monde that the NSA has also been recording dozens of millions of French phone calls, including those of the French authorities. According to the report, in just one month between December 10, 2012 and January 8, 2013, the NSA recorded a total of 70.3 million French phone calls.
Meanwhile, according to the Snowden revelations, the German Chancellor's mobile phone has been on an NSA target list since 2002 and was codenamed "GE Chancellor Merkel." The monitoring operation was allegedly still in force even a few weeks before US President Barack Obama's visit to Berlin in June 2013.
Washington has denied it monitored Merkel's personal phone, insisting that its surveillance practices are focused on threats to national security, namely terrorism. Merkel, who grew up in East Germany, where phone tapping was common practice, compared the NSA's spying to that of the Stasi secret police in the former German Democratic Republic, and accused the US of a grave breach of trust. According to polls, the Germans have lost confidence in the US as a trustworthy partner, and a majority of Germans consider Edward Snowden a hero. It's believed that his revelations have hit Berlin particularly hard since Germany is not a member of the so-called "Five Eyes' intelligence alliance which includes NSA-equivalent agencies in the UK, Canada, Australia and New Zealand, exchanging intelligence with each other on a regular basis.
In the wake of the revelations about US global spying activities, the German government has made it mandatory for ministers to use encryption on their phones to secure their communications against intrusion. Berlin has also prohibited the use of iPhones for official business, as they are not compatible with encryption.
France and Germany have been seeking bilateral talks with the United States to discuss the issue of the snooping, with Merkel's government pressing for a "no spying" agreement with Washington. Negotiations on an anti-spying agreement began in August 2013, but the US has been reluctant to sign such a deal, Süddeutsche Zeitung reported in mid-January, citing a Federal Intelligence Service (BND) employee as saying: "We're getting nothing."
Merkel, who is due to visit France on Wednesday, said in her weekly podcast that she disapproved of companies such as Google and Facebook, basing their operations in countries with low levels of data protection, while in reality being active in countries with high data protection.
"Above all, we'll talk about European providers that offer security for our citizens, so that one shouldn't have to send emails and other information across the Atlantic. Rather, one could build up a communication network inside Europe," she said.
Hollande's office said France agrees with Berlin's proposals, Reuters reported, citing an official as saying: "Now that the German government is formed, it is important that we take up the initiative together."
You can share this story on social media: