Kobani is about to fall to jihadists - Turkey's president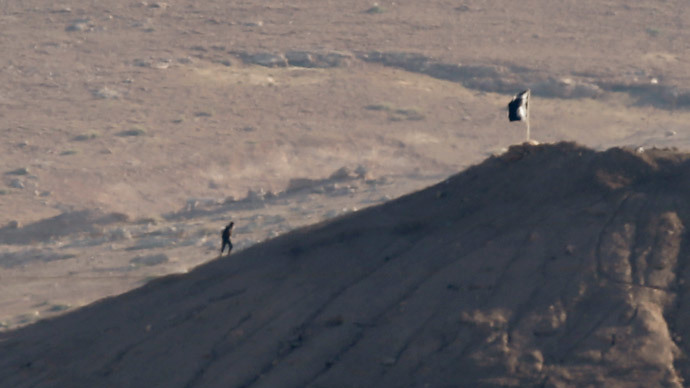 Turkish President Tayyip Erdogan has said the besieged Syrian-Turkish border town of Kobani is about to fall into jihadist hands, as it's in the midst of a fierce battle with Islamic State terrorists, numbering around 9,000 heavily-armed fighters.
The next 24 hours could see 5,000 people dead, according to Kurdish intelligence reports. Since the start of the advance toward the city 400 lives have already been lost.
"The problem of ISIS (Islamic State) ... cannot be solved via air bombardment. Right now ... Kobani is about to fall," the Turkish president said during a visit to a camp holding Syrian refugees. "We had warned the West. We wanted three things. No-fly zone, a secure zone parallel to that, and the training of moderate Syrian rebels," he said.
IS fighters advanced into the southwestern part of the town located on the border of Syria and Turkey. They reportedly occupied several buildings at opposite ends of the town in order to carry out attacks, according to Reuters and local border forces.
Heavy weaponry and shells are being used. One senior Kurdish official told Reuters that last night saw "a violent clash. We have fought hard to keep them out of town," adding that the main flashpoints are "on the outskirts and toward the center."
Taking the strategic town would allow the Islamic State militia to link up its forces more easily in Syria and northern Iraq, which they aim to turn into an Islamic Caliphate.
Even Turkey, who until very recently has been on the sidelines of the fight happening on its doorstep, has positioned tanks on a hilltop overlooking the Syrian town. But Erdogan says Turkey would only intervene if its soldiers guarding the historic Syrian landmark Turkey considers its own were attacked.
The forecast that Kobani will fall comes amid a realization by both foreign and Kurdish forces that airstrikes on the border have not been enough and led to urgent calls for speedy deployment of boots on the ground.
READ MORE: Airstrikes not enough, ground troops needed to defeat ISIS – UK general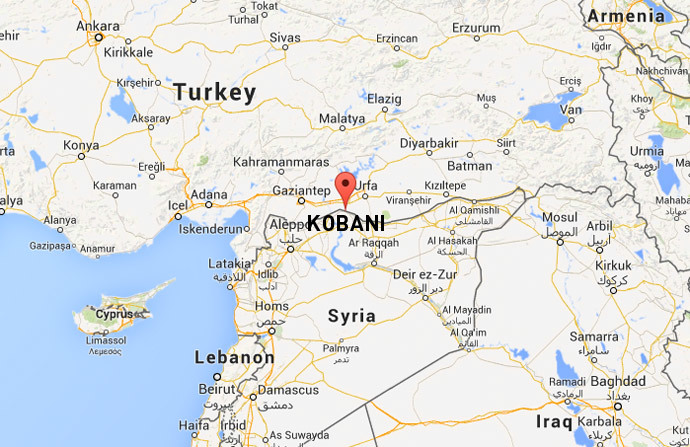 Rooz Bahjat, a senior Kurdish intelligence official with the Kurdish regional government in Iraq, told The Atlantic by telephone that "a terrible slaughter is coming. If they take the city, we should expect to have 5,000 dead within 24 or 36 hours… It will be worse than Sinjar."
Sinjar, an ethnically mixed settlement of Yazidi Kurds, Turkmens, Christians and Shabak, was the site of one of the worst massacres carried out by Islamic State. As many as 200,000 people were trapped in the mountains there without food, water or shelter.
READ MORE: Siege of Iraq's Mount Sinjar broken, but US ready to continue airstrikes
Bahjat agreed that airstrikes were not enough, and were ineffective and limited in scope in the area.
Experts say it is difficult to picture how Kurdish forces could gain the upper hand over the next 24 hours: for one, they are outnumbered. They also have no heavy weaponry – unlike the IS, which has tanks and grenade launchers.
Desperation has reached such proportions that a female Kurdish suicide bomber has carried out an attack, killing 27 Islamic State fighters. She was one of a few young Kurdish women posted on lookout towers, watching the border.
Many of them are of high-school age.
There are conflicting reports as to whether Turkey is engaging with IS at present. The country has received widespread criticism for wanting to keep out of the fight, but RT learned on Monday morning that several tank shells had been fired by Turkish forces overnight at jihadist positions.
"It's unbelievable—Turkey is in NATO, so you literally have NATO watching what is happening in this town. Everyone can see it— the TV cameras are there, watching. It's terrible," Bahjat said.
You can share this story on social media: